With "Mass Effect 2," DLC Stands For "Downloadable Continuity"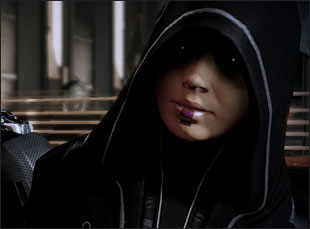 Posted by Evan Narcisse on
If any trend's been rising to prominence in big-studio console video games this year, it's been the offering of downloadable content.
Though digital distribution's making inroads toward becoming a viable release strategy, most high-profile games still come out as packaged products on discs. Usually, after a player's done with the content on the disc, they'll amble on down to their local Gamestop and get some cash back or credit towards another purchase. There's a robust secondhand market in the video game business that traffics in buying those discs back and selling them again below the MSRP. This has been a troubling practice for game publishers and developers, who don't get any money from those second, third or fourth purchases.
Part of the rise of DLC has been to combat this aftermarket. Additional characters, unlockable maps or exclusive weapons get offered to people who buy the game new, most often via a single-use code that comes in the box. The other reason DLC's become such an important pillar is the increasing ubiquity of multiplayer game modes.
As recently as five years ago, single-player games in the vein of "God of War" or "Devil May Cry" could dominate the sales charts. But multiplayer blockbusters like "Call of Duty: Modern Warfare 2," "Halo 3," "Left 4 Dead" and "Borderlands" have re-aligned the kind of success major game publishers are shooting for.
Multiplayer-centric titles set up an ecosystem that's self-perpetuating: players show up just to face off against each other and all they need to keep doing that is a trickle of shiny new somethings that keep the experience fresh. What's happened in the aftermath of the secondhand and multiplayer shift is a mandate for DLC from console makers, one which requires a fresh batch of content as soon as a month after a game releases.
I realize that all of the above makes sounds terribly dry and business-like. But that's where the motivations are coming from: get the player, stop the player from trading in that game a week after he buys it, keep the player tethered into the ecosystem. DLC makes business sense, because it's a way to keep earning money from the original investment from developing the original disc release.
The graphics engine, the artificial intelligence algorithms, the data miners for multiplayer match-making… whether they're licensed from other entities or crafted in-house, they cost time and money to implement. If dev studios and publishers can squeeze more out of those tools, then they stand to get a greater return on investment.
For example, Ubisoft announced that they'd be pumping out free weekly DLC for their recent hit "Splinter Cell: Conviction." It's a genius move, one that guarantees fans are popping that disc in once a week, if only to see what the new stuff is. While the offerings have been as varied as new guns, maps and multiplayer missions, there's been nothing that continues Sam Fisher's story as told in the game.
And, to me, that's where the missed opportunity is. Not enough of the DLC getting dangled in front of players is built with the goal of extending the storytelling experience. But, one company's doing exactly that, and it's paying off in spades.
"Mass Effect 2" was released by Bioware (and Electronic Arts) in January of this year, coming pre-loaded with around 50 hours of story and gameplay. It's the second part of the Edmonton-based developers' sci-fi trilogy, continuing the story of Commander Shepard, a paramilitary avatar you create and make unique depending on how you respond to the choices the game gives you.
The way Bioware's approached DLC has been to grow out the universe you're playing through. The free launch-day DLC was a new character — grizzled merceneary Zaeed — who you could add to your squad. But beyond just the tactical option his manpower provides on your missions, Zaeed also gives you a new story to experience with its own backstory, complications and hard choices.