Disc Covering: "Brock Enright: Good Times Will Never Be the Same" and neither will documentaries.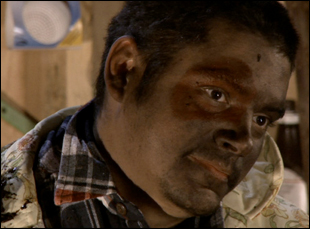 Posted by Matt Singer on
I promised this column wouldn't just be about making fun of DTV crap. And I'll be honest: to date, I haven't really kept my promise.
Well, this is the week we correct that.
"Brock Enright: Good Times Will Never Be The Same" (2010)
Directed by Jody Lee Lipes
Tweetable Plot Synopsis: An artful doc about a young artist preparing for his first solo gallery show while ignoring his bills and fighting with his girlfriend.
Salable Elements: An extremely talented director/cinematographer, a subject whose work has been exhibited in galleries around the world and covered by the New York Times. (In other words: not much).
Biggest Success: With "Brock Enright," first-time director Jody Lee Lipes managed a rare feat: to make a documentary that doesn't look like a documentary. Lipes works primarily as a cinematographer, and in making "Brock Enright," he abandoned the hand-held camera and talking head format of basically all modern documentaries. Instead, he shot the film like one of the fiction features he's worked on — like Antonio Campos' "Afterschool."
His emphasis is on carefully composed medium shots with very little movement, either from pans or zooms or from jostling camera in your hands (nearly every shot is from a camera mounted on a tripod). The effect is complicated: at first, we're simply stunned to be watching a documentary that looks so much more dynamic than what we're used to seeing. Some have argued that the entire film is staged, and given the beauty of the shots and how difficult and time-consuming it could have been to achieve them, it's not hard to see why. But Lipes' style would be little more than a novelty and a conversation piece if it didn't relate to the film's subject, which is the way in which an artist sees — or tries to convince himself to see — the world.
Enright, who gained a degree of notoriety in 2002 for an "art project" that involved creating designer kidnapping schemes for the rich, was commissioned by the Perry Rubenstein Gallery in New York for his first solo show in 2006. To prepare the work for the show, Enright and his girlfriend Kirsten Deirup travel cross-country from their home in Brooklyn to her family's cabin in California, which has been offered up to the couple as a sort of outdoor studio. Along the way, Enright directs Deirup in a bunch of disconnected scenes, intended for a film Enright's working on, that range from demeaning to nonsensical to demeaningly nonsensical.
In "Afterschool," Lipes' idiosyncratic framings — close-ups with way too much headroom, dialogue exchanges between characters shoved all the way to the side of the screen, shots more focused on elements of the mise-en-scène than the characters in the foreground — mimicked the amateurish camerawork and accidental beauty of the film's Flip Video-obsessed protagonists. Capturing Enright's world in similar fashion could be Lipes' way of implying a similar level of immaturity on the part of Enright. Based on the way he's depicted in this film, that doesn't seem like an outrageous assertion.
It's also possible to read Lipes' off-kilter aesthetic as a representation of the disconnect between the artist's perspective of the world and the world's perspective of the artist. The film begins with a close-up of Enright in a wig, fake nose, and fake teeth, mumbling under his breath incoherently about how he's "trying to tell a guy" something. Since we can't quite make out what he's saying, and since most of Enright's work makes very little sense even to some members of his own family, the scene seems to address the way an artist is only as good as his ability to communicate his vision. Maybe Enright's art is terrible. Or maybe it's great. Or maybe Enright's just not doing a very good job of expressing his point of view.
Enright believes in his work strongly, but he can never really convey — to himself or anyone else — what it's all about. He cares what others think about his art — we hear him crying, at one point, after a withering critique from his potential brother-in-law — but his own thoughts seem hopelessly out of reach. ("I don't know what the fuck we just did," he tells a collaborator proudly.) Some of the pieces he likes best, in fact, are the ones that he can't rationally justify. In presenting a visual perspective on the world different from the one we're used to seeing without offering any sort of explanation for it, Lipes' photography echoes that central dilemma.
Biggest Failure: Factory 25's otherwise beautiful limited edition LP/DVD version of "Brock Enright" completely spoils the huge surprise awaiting viewers at the end of the film by putting an enormous picture of it on the packaging. While it's probably a good bet that anyone buying this expensive and elaborate box set is already a fan of the film, why take the risk? If you haven't seen the film, and you do get this version of it, I'd avoid eye contact with most of the interior box art until after I'd watched the feature.
Best Moment: While fighting to finish this project, Enright is constantly up against his limited timeframe and even more limited funding. His excessive spending, and its impact on his relationship with Deirup is one of the ongoing themes of the movie, and the driving force of most of their scenes. Again and again, she demands he explain how they'll pay their rent without any income, and again and again he deflects because, he claims, any talk of fiduciary reality is a drain on his extraordinarily fickle creativity.
The looming threat of economic catastrophe hangs over much of the movie, but never with as much bleak humor as the scene where Enright shops for art supplies with a friend. Lipes locks off the shot of the pair ringing up their purchases so that the clerk and the cash register is in the foreground, with Enright in the background facing the camera. As Enright and company come and go from the frame, the camera stays trained on the register, as it prints out the receipt, which just grows longer, and longer, and longer, and longer…
Special Features: Factory 25's release of "Brock Enright" comes in two editions: a standard version and that spoilery limited LP/DVD edition that includes a Brock Enright vinyl album with individually hand-drawn artwork. (My copy has the word "night" written on one side and some diagonal lines on the other). I don't have a record player, so that extra's value is lost on me, though it's worth nothing that the music Enright himself plays throughout the film is beautiful, and maybe the truest and clearest expression of his artistic talent.
It's unfortunate that the rest of the DVD extras are focused on the film's subject, since the most interesting artist connected "Brock Enright" is its director. Sadly, the only interview on the disc is a backslapping conversation with Enright; the other special features are a batch of video loops and an hour-long work-in-progress version of the experimental video Enright and his associates create throughout Lipes' documentary. Scenes that appear in "Good Times Will Never Be the Same," like Deirup jumping rope in her pajamas on a desert road while repeatedly shouting "Fuck you, you piece of shit!" don't make any more sense in context.
At one point, "Brock Enright," Enright dismisses his girlfriend's worries about money by reminding her that if they're $20,000 in the hole, they only need to sell two of his videos to break even. Anyone willing to pay $10,000 for this video needs a copy of "Summer Hours" and a stern talking to.
Worthy of a Theatrical Release: Absolutely. Lipes broke some new ground in the world of documentaries with "Brock Enright." In my book, that automatically makes a film that's worth seeing on the big screen.
For Further Viewing: Check out the trailer for Lipes' "NY Export: Opus Jazz," a dazzling adaptation of a Jerome Robbins' "ballet in sneakers" he co-directed with Henry Joost. This film, made for PBS' "Great Performances" was amongst the most exciting visual experiences I saw at this year's South by Southwest Film Festival. Mark my words: Lipes is going to make a major impact on the world of cinematography, folks. With these two films, he's already started.
[Photos: "Brock Enright: Good Times Will Never Be the Same," Factory 25, 2010]