Deja Jeux: Video Games Were All Up in "Inception," Right?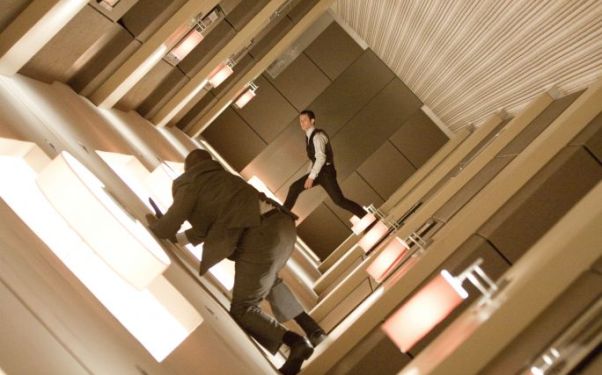 Posted by Evan Narcisse on
I finally saw "Inception" over the weekend. Unlike Matt and Alison, I pretty much loved it. I liked the way it mashes up a heist flick's structure with a conceptually ambitious MacGuffin. Nolan hits the viewers with a challenging spectacle in the opening sequence and then explains what they just saw, easing them into the idea of dream manipulation.
Lots of video games start the same way, giving you a glimpse of the powers you'll be wielding or environments you'll be exploring. Then they'll whip you back to a lower rung of the ladder and school you in the systems that govern the play experience.
The weird thing for me is that Nolan doesn't appear to be one of the new breed of Hollywood filmmakers who spend hours upon hours playing video games — you know, the Brett Ratners and Zack Snyders of the world. I don't mean that as an insult; rather, both men have been pretty vocal about their marathon gaming sessions. You can see the genre bleed-over between mediums in their work, as far as the way that games want to be movies and vice versa.
I'm not the only one to note the fingerprints of video game influence on Nolan's latest. But, forget the seemingly obvious stuff: the fact Cobb's team — assembled through loyalty missions — could be straight out of an RPG title, the snowy military assault in the third layer of dreamtime which looks an awful lot like "Call of Duty: Modern Warfare 2", or that Ellen Page's Ariadne, as an architect, is basically a level designer.
That stuff seems incidental to me. Instead, the deeper themes of the movie reverberate with several similarities to video games. There's also the idea that crafting an experience in dreamtime is a pursuit you can lose yourself to. You can also see it in the goal-oriented vectors that run through the film, through a variety of alternate realities. Saito, Fisher and, of course, Cobb all have motivations that require them to manipulate reality, in both the real world and in the dreamscape.
What really drives the video games-to-"Inception" connection home, though, is the idea of interaction. Other people's consciousnesses exist as static ecosystems, the film posits, and interacting with them not only creates conflict but possibility, too. The best video games traffic in the same kind of idea, that you can change a fate for the better once you learn how it works. The term "video game" gets used as an epithet, when it describe movies. But, to me, "Inception" pings on video game logic in just the right ways.