Exclusive: Dangermouse & Sparklehorse's Dark Night Of The Soul feat. David Lynch.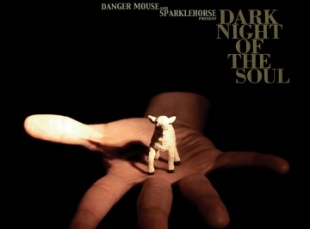 Posted by Brandon Kim on
"Dark Night Of The Soul" was originally the title of a 16th century spiritual work by a Christian monk describing the painful journey made after life into the eternal love of God. But we can set that aside now, for after a long dispute with their record label, this ineffable album by Danger Mouse and the late Sparklehorse has come to light.
The good news is tempered only by the loss of Mark Linkous, aka Sparklehorse, who shot himself (in the heart) earlier this year. The album is dedicated to him and Vic Chesnutt who is featured on the track "Grim Augury."
The roster of other collaborators on the record reads like someone's fantasy bucket list. The Flaming Lips, Gruff Rhys, Jason Lytle, Julian Casablancas, Black Francis, Iggy Pop, James Mercer, Nina Persson, Suzanne Vega and David Lynch are all featured.
Dig this sweet album teaser directed by Eno:
Here's the full track list and who's who on those "chapters" in the video.
1. Revenge 4:58 — featuring The Flaming Lips
2. Just War 3:48 — featuring Gruf Rhys from Super Furry Animals
3. Jaykub 3:57 — featuring Jason Lytle from Grandaddy
4. Little Girl 4:37 — featuring Julian Casablancas from the Strokes
5. Angels Harp 3:00 — featuring Black Francis from The Pixies
6. Pain 2:55 — featuring Iggy Pop
7. Star Eyes (I Can't Catch It) 3:15 — featuring David Lynch
8. Everytime I'm With You 3:16 — featuring Jason Lytle from Grandaddy
9. Insane Lullaby 3:14 — featuring James Mercer from the Shins/Broken Bells
10. Daddy's Gone 3:12 — featuring Mark Linkous and Nina Persson from The Cardigans
11. The Man Who Played God 3:14 — featuring Suzanne Vega
12. Grim Augury 2:35 — featuring Vic Chesnutt
13. Dark Night Of the Soul 4:39 — featuring David Lynch
You'll notice David Lynch is featured on two of them, including the haunting, old-timey title track. Aside from collaborating musically, Lynch also created a series of photographs inspired by the music, for the music. You can see a couple here and full series comes in a 12″ photo book that comes with the box set. Visuals to accompany your listening experience:
For more, visit the super fun "Dark Night Of The Soul" pop-up website, or check it out in the iTunes store.