"Countdown to Zero": Don't They Know It's the End of the World?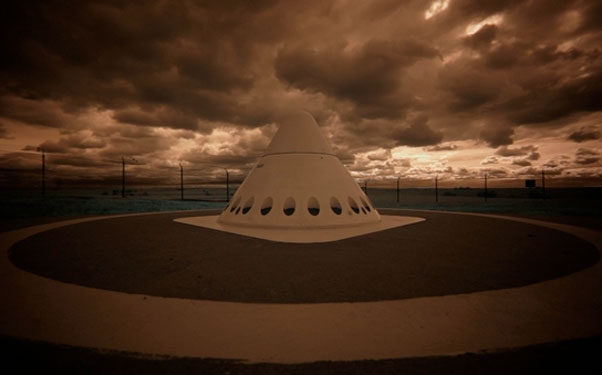 Posted by Alison Willmore on
Can Al Gore's global warming documentary become shorthand for a genre? (The scareumentary?) That's what Participant Media's Jeffrey Skoll implied when introducing the new film "Countdown to Zero" at its New York premiere Wednesday night. He noted that they'd been in search of the next topic to do "'The Inconvenient Truth' of," and what we were about to watch was the result. "Countdown to Zero," in other words, aims to be "The Inconvenient Truth" of nuclear warfare. If you feel a little short on global concerns, it offers plenty to add to your plate.
Taking its structure from an excerpt from JFK's "nuclear sword of Damocles" speech to the U.N. in 1961, "Countdown to Zero" examines the various way we could arrive at nuclear annihilation via "accident, or miscalculation, or by madness." "Accident," as in the incidents when nuclear missiles were erroneously loaded onto bombers that then flew over the country, or dropped, with failed parachutes doing nothing to cushion their fall. "Miscalculation," as in the apparently many times we almost escalated to nuclear war with the U.S.S.R. over misidentified scientific research rockets or faulty computer chips. "Madness," by far the most troubling, as in terrorism.
The first two angles are almost incidental compared to the last. "Countdown to Zero"'s most potent points are how easy it is to manufacture a nuclear bomb, how much nuclear material is floating around for sale in crumbling nations, and how slight the chances would be of that material getting discovered as it was smuggled into our country.
Who would be so desperate, so ruthless as to deal in enriched uranium? How about a factory worker who just wants to buy a stove? Such was the case of one man who stole small amounts of uranium from the manufacturing plant that employed him. He ended up with one and a half kilos — enough to do some serious damage. No one noticed anything was missing.
Narrated by Valerie Plame and directed by Lucy Walker ("Devil's Playground") "Countdown to Zero" compiles at a usual ratio archival footage, animated sequences and interviews, a few surprising — like the one with Mikhail Gorbachev, who reflects on the perceived failure of his 1986 meeting with President Reagan in Reykjavik.
But it rarely manages to confect any memorable visuals to accompany its avalanche of information — a recurring device of laying a five-mile or two-mile impact ring over maps of major cities doesn't actually help conceive of the potential destruction it's attempting to illustrate, and the combination of Times Square New Year's celebrations, with Israel Kamakawiwo'ole's "Somewhere Over the Rainbow" playing in the background, and images of bombs exploding just seems like a cheap shot.
What does resonate are the moments with Robert Oppenheimer, a sad-eyed Cassandra figure weighed down with the implications of what he'd helped unleash on the world. But it's that sense of Pandora's box being irrevocably open that also works against "Countdown to Zero." The film opens with a series of man-on-the-street interviews in different cities around the world, on how often people think about nuclear armament. Most don't.
It ends with a push toward change, the global elimination of nuclear weapons, the banning of production of nuclear materials, the elimination of keeping nuclear missiles on high alert. But instead of sending me out onto the sidewalk energized to help, I felt a lot like those initial interviewees — like I wanted to put these things out of my mind.
If the technology to destroy the world is already out there, how can we possibly take it back? The many steps toward nuclear armament seem less pressing at this point than dealing with the reasons people would desire that kind of catastrophic power.
"Countdown to Zero" opens Friday in New York and Washington, D.C., with additional markets to follow.