Comic-Con Day Two: Cage, "Skyline" and "Super" Bring a Touch of Indie Spirit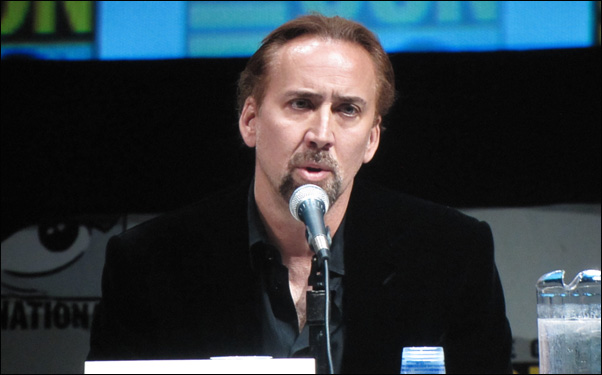 Posted by Stephen Saito on
As you've perhaps read elsewhere, to go to Comic-Con is to be in a perpetual state of disappointment.
The long lines are no exaggeration and regardless of where you are, you will likely be in the wrong place. On Friday afternoon, a panel for "The Goon" brought out David Fincher and Paul Giamatti, who are working on an animated film version of the character, in one of the convention center's smallest rooms — it was one of the rare panels not to have a line. Later that evening, "Jackass 3D" footage played to wild applause at an offsite event on Friday night and if you weren't invited, you likely were none the wiser. While I sadly was not in the know for either, I left an all-day stay in Hall H more satisfied than bitter.
Much of that had to do with the fact that contrary to some opinion, there are some very real and potentially very important developments going on at Comic-Con that have interesting ramifications for independent film. Since Friday was devoted to such productions, it wasn't one of the most glittery days for the big hall, but surely one of the most interesting as it broke from the big studio presentations that now feel more like marketing presentations to potential shareholders than the slightly more wild free-for-all that Comic-Con was as recently as two or three years back.
The fun started in the morning with "Drive Angry 3D," the carsploitation follow-up from "My Bloody Valentine 3D" director Patrick Lussier that appeared to prove some of Summit's "Twilight" money is going to a good cause. It stars a stringy haired Nicolas Cage as a drifter whose daughter has been killed and his sole purpose in life has become tracking down and retrieving her baby from a Satan-worshipping Billy Burke.
Although that might not sound exciting as a logline, "Drive Angry 3D" actually looks like a blast, in the vein of the antihero '70s action films Lussier later said he was drawn to "Vanishing Point," "Race With the Devil" and "High Plains Drifter," mixed with Cage's desire to show off "what moves I could do that could go into the fourth row of the audience." (Yes, Cage looks particularly deranged with a sawed-off six-shooter reaching far beyond the screen, and Amber Heard jumping onto the hood of his car "and in your face" shouldn't hurt its prospects.)
In a nice touch, Lussier said the film's simple, evocative title came from "Groundhog Day," since work on "Drive Angry" started around the holiday and Lussier couldn't stop thinking about the Bill Murray comedy and the scene where Murray warns the groundhog, "Don't drive angry!" But the panel's most interesting insight came from one of the audience's silliest questions. When a fan asked Cage whether he had an obsession with "beating the devil," given films like this and "Ghost Rider," Cage gave a rather spellbinding reply that partially explains his increasingly strange career choices, which I'll run in full:
I am eclectic and I'm always looking to push the boundaries with film acting and at this point in my career, I think I stumbled on the concept that if I can play characters that have a bit of a supernatural element to them, it opens up my options.

It's infinite the things I can do in terms of behavior and performance. It's limitless, so there's only very few ways you can do that where you can think of film acting as other artforms that are perhaps abstract like jazz music or abstract painting.

One of the ways to do it is play a character who's really high on drugs like in "Bad Lieutenant" and another way is to play characters that are from somewhere else and that it's all bets are off like "Drive Angry" and then another way is to just play somebody completely insane. And that's next. [laughs]
With a straight face, Cage would explain how his character in "Drive Angry" is "driven, but it's not so easy to just say he's angry. There's other levels going on." Between that and co-star William Fichtner's promise that he drives a hydrogen tanker, I was sold. The film is coming out February 11th next year.
Arriving sooner is "Skyline," a sci-fi invasion flick that most people probably had no idea existed before arriving at Comic-Con. It's been an 11-month production from start to finish, which is unusual for any film, let alone a CG-heavy spectacle. Directors Colin and Greg Strause wouldn't be anyone's preconceived idea of independent filmmakers, as the brothers who made their directorial debut on "Alien Vs. Predator: Requiem" and run the preeminent Hollywood effects house Hydraulics, responsible for work on films like "Avatar" and "Iron Man 2."
Yet when "Paranormal Activity" came out last year, the Strause brothers realized that since they already owned all their own equipment — "the lighting, the cameras, the FX shop" — Greg decided to offer up his house as a main location, spend $25,000 for a day riding around in a helicopter for establishing shots, and making a go of it with a small crew and no studio interference.
To say "Skyline" was a great surprise like "District 9" a year ago would be overhyping it, but the fascinating thing wasn't necessarily the footage they showed, but the idea that more and more filmmakers from inside the Hollywood system, frustrated with the process, may break free of its constraints, given the right circumstances. (Interestingly enough, later in the day, Will Ferrell and Adam McKay not only announced their secret project "The Virginity Hit," a "Losin' It"-style teen comedy directed by "Last Exorcism" scribes Andrew Gurland and Huck Botko, but showed the finished film at the Gaslamp at night.)
As Colin Strause said, "We've worked on so many movies and we've seen where there's been horrific inefficiencies the way films are done," and referring to embracing new technology, he added, "The only way we're going to make movies now is the new RED cameras that [David] Fincher is using on his movie. ["Skyline"] will be shot on this requires a fraction of the lighting. When you have a fraction of the lighting, that means you don't have big crews, which means you can do things way more efficiently."