Seven Lessons To Take From Comic-Con 2010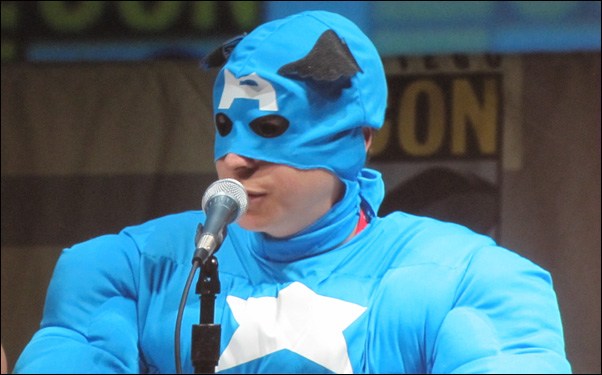 Posted by Stephen Saito on
During one of Comic-Con's most extravagant displays for the "Scott Pilgrim Vs. the World" panel, each of the film's cast members received their own video introduction (with the notable exception of Chris Evans), pins were given away to every member in the audience and Michael Cera filled in for Evans by walking out in a Captain America costume and repeatedly referring to his newfound muscles.
"Thirteen guests coming out and I'm not sure all of them can match one Lundgren," said Edgar Wright, still in awe that he would be following up a panel of Sylvester Stallone's "The Expendables."
There wasn't much of substance said — by design, Wright moderated the panel and asked that most of his questions be answered with one word only, but that "Scott Pilgrim" has been largely recognized as "the winner of the Con" is a testament to the fact that for all its smoke and mirrors, the fans who flood into Comic-Con every year appreciate the sizzle above all else while they're in San Diego and will spend the other 361 days of the year looking for the steak.
Like Wright, who literally led a collection of fans lucky enough to pull pins labeled "1-Up" out of a bag on a Pilgrimage through the streets of downtown San Diego to the premiere of his latest film, here is a walk through the other lessons learned at this year's Comic-Con.
3D may once again be just a passing fad.
The only thing more unpopular than M. Night Shyamalan's name on the "Devil" trailer at Comic-Con was saying your film would be in 3D, a true shame considering Nicolas Cage's "Drive Angry 3D" cruised into San Diego with some of the convention's most entertaining footage and only a half-full Hall H had the opportunity to see it.
Jon Favreau, whose ability to take the temperature of a room is uncanny, was not only able to bring out Harrison Ford in handcuffs an hour after the infamous stabbing (which just turned out to be a coincidental play on a reluctant Ford's first appearance at the Con), but garnered some of the biggest cheers when giving this explanation of why "Cowboys and Aliens" won't be in 3D:
"We got the rigs out, we were testing shooting in stereo, it looked really good, but you shoot stereo, you've got to shoot on digital video and this is a western, I don't want to shoot on video, so the only other route would be conversion. But that's like shooting in black and white and colorizing it. So coming next year, 2D, 'Cowboys and Aliens.'"
You would've thought he had found the cure for cancer or, more realistically, announced who would play the Mandarin in "Iron Man 3," but Favreau won over fans the old fashioned way, by showing them a fully realized introduction to the sci-fi/western hybrid that saw Daniel Craig stumbling around a dusty frontier town before being arrested and ultimately freed when his carriage is blasted by a spaceship, to which he returned the favor by blasting down with a glowing bracelet. That Favreau had his special effects team at Industrial Light and Magic prepare the clip after only a month of shooting to hit Comic-Con was impressive, but that he could forecast the 3D backlash was equally so. Then again, he knows what it takes to be a crowdpleaser at Comic-Con.
Horror works at Comic-Con, but word may not travel.
Guillermo del Toro was said to be disappointed with the lack of coverage given to his production of "Don't Be Afraid of the Dark," which was set up to be overshadowed when a day earlier it was announced he would be producing a new take on Disney's "Haunted Mansion" and spent much of the "Dark" panel sitting next to first-time director Troy Nixey and taking questions about why he left "The Hobbit" and what he's working on next (a horror film shooting in May later discovered to be his long-gestating adaptation of H.P. Lovecraft's "At the Mountains of Madness" with the help of James Cameron as a producer).
Of course, this didn't leave all that much time or the requisite column space for reporters for the actual film at hand, which scared the bejeezus out of the 5000 or so attendees who were in the crowd as a young girl crawled through some sheets to a gruesome discovery and gave del Toro license to exclaim without embarrassment, "I shat my pants!" (Moments later, he would drop my favorite one-liner of the entire Con about "Dark"'s rating: "It's like a pirate ship, the more R the better.")
Similarly impressive was the footage to Matt Reeves' "Let Me In," the American remake of Tomas Alfredson's young vampire tale "Let the Right One In" that has been transported from Sweden to Los Alamos, New Mexico. (Reeves credited "Cloverfield" scribe Drew Goddard with helping find the snowy location since he grew up there and Reeves liked the scenery as much as its place in U.S cultural history.)
The footage of the young stars Kodi Smit-McPhee ("The Road") and Chloe Grace Moretz ("Kick-Ass") bonding over Now N'Laters and eventually Moretz's dirty deeds as a vampire, which is too spoilery to get into here (though a description can be found here), looked appropriately atmospheric and creepy. Following in the footsteps of the original, "Let Me In" also appeared to be as high on strong characters as it is on suspense, something Reeves attributed to Steven Spielberg's suggestion that the child actors keep journals in character.
Both films were a cut above much of what was shown at Comic-Con in evoking pure emotion from the audience, but "Don't Be Afraid of the Dark" and "Let Me In" were also the victims of playing a venue that doesn't necessarily reward subtlety or pedigree. (Hammer Films' CEO Simon Oakes, who was there with "Let Me In" only got scattered applause when bringing up remakes of "Captain Kronos" and "Seven Golden Vampires.") Despite that, they were among the most exciting clip packages to be shown in Hall H.