Del Toro, Hill Haunt Hall H: Comic Con 2010 Day One, Part One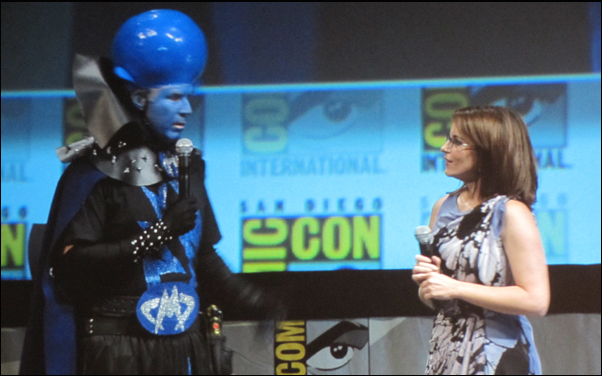 Posted by Stephen Saito on
"The first rule of Comic-Con is to show up in your own costume, and I can see as I look in the hall, not a lot of people in costume," Will Ferrell said as he surveyed the audience in the San Diego Convention Center's cavernous Hall H on the first day of Comic-Con.
It was meant to be a joke, as Ferrell was dressed as the character he plays in the animated film "Megamind," but it's one that was unwittingly perceptive. There do seem to be fewer people in costume around Hall H this year, which seems less connected than ever with the rest of the convention, where TV panels bring out their most devoted fans and comics are still bought, sold and discussed thoroughly.
As for the films that occupy Comic-Con's most prized piece of real estate, there seemed to be an uncertainty about how to wow the crowd, at least on day one of the 2010 edition. For "Tron Legacy," which has seen its entire evolution occur at the Con after premiering test footage two years ago, this year's presentation felt like a victory lap, even though the film doesn't come out until December.
On the other end of the spectrum, panels for "The Expendables" and "Salt" offered the opportunity for studios to trot out the films' stars, who were more than gracious to the fans, but even with exclusive footage and surprises like Simon Pegg and Nick Frost crashing the "Scott Pilgrim" panel, it's all felt a little more mechanical than in years past.
One thing that remains is the event is as unwieldy as ever, as a young child next to me asked, "Are they really up there?" when we sat so far back from Ferrell, Tina Fey and Jonah Hill on stage at the "Megamind" panel that the only way we could see them was on one of Hall H's many screens. However, security seems tighter this year — Con-goers who try to sneak into line close to the door are quickly rebuffed and a young woman at the mic who told Tina Fey she was "fucking hot" was hauled off before she could get a response.
If there was a policy of keeping the banter safe for kids, Jonah Hill must not have received the memo. While Ferrell was dressed in blue, Hill was working blue, taking the bait from HitFix's Drew McWeeny on a question about which person in Hollywood they would want to destroy if they had superpowers. Hill responded, "Mel Gibson's girlfriend. I just want to come out officially and support Mel" and walked defiantly off stage.
DreamWorks Animation chief Jeffrey Katzenberg probably would've preferred that Hill not return if he knew Hill would defuse the situation by coming back to apologize with "I actually read what [Gibson] just said. I'm going to have to take a few of those things back. It was paraphrased to me earlier and now I read what he actually said. I feel guilty. I only support a quarter of the things he was talking about on those tapes. No, I was kidding. I don't support him. I do think the Jews killed Jesus. Other than that…" (Hill mused earlier in the panel Katzenberg would "shoot an arrow in my head" if he revealed a twist for his character in "Megamind," but I suspect there might be a worse reprimand for this and his later crack about Michael Cera masturbating throughout the sleeping bag scene in "Superbad.")
The eight minutes of "Megamind" footage that was shown paled in comparison, though the biggest laugh of the superhero spoof was a sight gag when Ferrell's villainous title character takes control of a city long protected by the superhero Metro Man (Brad Pitt, who appeared in cardboard cut-out form on the panel since he didn't attend) and Megamind's visage appears on banners resembling Shepard Fairey's the Obama "Hope" posters, with the logo, "No, You Can't."
Likewise, there wasn't much to discuss from the "Tron Legacy" panel besides its new trailer:
Most of the money shots were part of the eight minutes of footage the Comic-Con crowd got to see, which was largely an introduction to Garrett Hedlund's Sam Flynn as he's abducted by a recognizer and suited up with a disc in hand on his way to find his father Kevin (Jeff Bridges). Daft Punk got the biggest audience response when they were ordered by a white-haired Michael Sheen to "electrify the boys and girls" and the footage turned into a montage that resembled the trailer, ending with the unveiling of Jeff Bridges appearing as his 35-year-old self as Kevin's avatar CLU.
Bridges called the whole thing "pretty wild, pretty psychadelic," and while co-star Michael Sheen made a nice play on words when he noted the film will be in 4D since Bridges "brings a fourth dimension," Bridges actually appeared to be a different dimension when he was waxing on about a Jackson Browne concert he just attended and the plague of plastic water bottles contaminating the earth.