Christopher Nolan's preferred actors.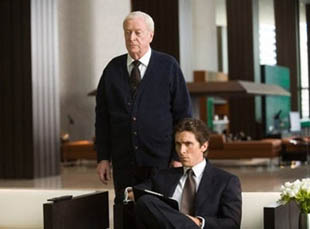 Posted by Vadim Rizov on
The web is celebrating the tiny announcement from Sir Michael Caine that "Batman 3" starts shooting next April. More interesting is that the announcement came from Caine, who is now poised to have acted in five consecutive Christopher Nolan movies, more or less making him the Bill Murray to Nolan's Wes Anderson.
This is not an insignificant pairing from either party's POV. Caine's done plenty of fine work, but he's also notoriously pragmatic and available to the highest bidder. He's worked with some great directors (John Huston, Woody Allen, Brian De Palma), and he's also made "Miss Congeniality" and "On Deadly Ground." Presumably Nolan's films have a high enough budget at this point to accommodate whatever Sir Michael's price might be, but it's still his longest collaboration.
So what does Nolan see in Caine, Christian Bale (who, beyond playing Batman, also starred in "The Prestige") and Cillian Murphy (who comes along for the ride in "Inception")? Those are pretty much the only actors he's used consistently.
Because Nolan movies tend to be about highly abstract ideas, the most compelling characters are those as obsessed with abstractions as Nolan: the dueling magicians in "The Prestige" are, attendently, his two most compelling leads. Batman/Bruce Wayne lives in abstractions, as does the Joker. (One reason Aaron Eckhart isn't as compelling a villain is because he doesn't really stand for anything after he turns from Dent to Two-Face; he goes from a dude with an ideal to just a guy out for revenge.)
Christian Bale is able to use his frame to convey tense belief in what he's talking about; Michael Caine, by contrast, is a man who can lower the belligerence level in any room he enters without even appearing to do anything. I think Nolan's smart enough to know that his movies are always on the verge of collapsing into overly-brooding seriousness if he doesn't have some characters whose job is to stay collected and unmoved in the frenzy. Bale brings the tension; Caine defuses it. Other actors come and go as the spirit moves Nolan's abstractions.
[Photos: "The Dark Knight," Warner Bros., 2008; "The Prestige," Buena Vista, 2006]