Chrissie Hynde and the Song That Sparked "Fidelity!"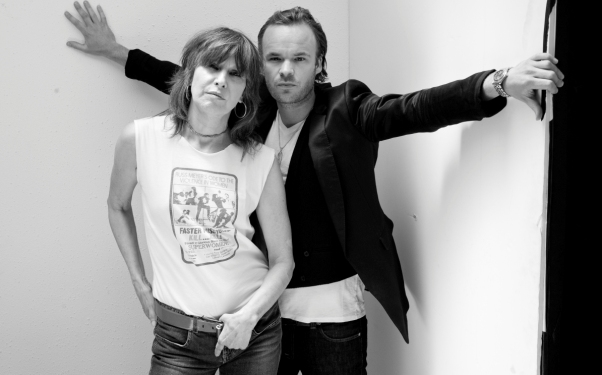 Posted by Brandon Kim on
I talked to Chrissie Hynde the other day about moonlighting from The Pretenders and her new thing with Welsh musician JP Jones. Word is probably out now, but at the time there was a lot of innuendo about their relationship and how they came to cut this new record, "Fidelity." In truth, it's kind of heartbreaking.
Pushing 60 she finally met the perfect lover, but he's in his 20's. He was wearing diapers when she was ending her first marriage. It reminded me of the time traveling weepie "Somewhere in Time," about star-crossed lovers born into different generations. In it, an old woman approaches a young playwright (Christopher Reeves), places an old pocket watch in his hand, and says "Come back to me," before dying.
Later, in an old hotel room enthralled by a photo of her, the young man discovers that the woman was a famous turn of the century stage actress (Jane Seymour) and embarks on a mind trip (using the pocket watch) back in time to find her in 1912 where they're the same age.
They fall madly in love there, but the reality is that our guy is still a young man hold up in hotel room in the present day. He can't stay forever, somewhere in the past with her and ends up being heaved catastrophically back to the future, as it were. Love torn apart by time's cold tick-tock.
Okay, maybe Chrissie and JP are a bit less complex than all that, but an old hotel room did play a key role in their story too. When I asked her how it all began, Hynde revealed that there's a song they made up that sparked the whole record, but is not actually on it.
"We walked around Havana and looked at each other and thought whoa if you were my age, this would be different," Hynde recalled. "That's actually the song that kicked it off, "If You Were My Age," but for some reason we didn't get to that one. It all happened so fast."
The duo still plan on recording the song, and will likely play it before then during live shows I'm told. Look for the full, heartbreaking interview here next week, along with a video premiere for a single off "Fidelity!"