The unexpected cult status of Peyton Reed's "Bring It On."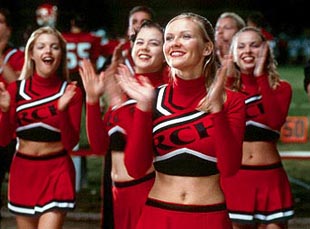 Posted by Vadim Rizov on
The New Beverly in Los Angeles is hosting a tenth anniversary midnight screening of "Bring It On," this weekend. By virtue of being better than it needs to be, "Bring It On" is one of the few studio teen films of the last decade to earned non-studio-manufactured goodwill, a small cult of genuine affection.
Part of that has to do with its relatively sharp craft, and part has to do with director Peyton Reed, who was, for a while, a rising young auteur and whose career might, at any moment, resurge unexpectedly.
Reed's directed music videos (he did three for Superchunk) as well as a few episodes of "Mr. Show" and all (!) of "The Weird Al Show." "Bring It On" was his feature debut, one of those "most pleasant surprise of summer" type movies.
While Reed won't be making it to the screening, he did do an interview with Aint It Cool News talking about "Bring It On"'s nervous conception. The main question, he reveals, was thinking about how to push the sexual aspects while keeping a PG-13 rating: "You cannot separate sexuality from cheerleading," he notes. "It is inherently what it is – growing up with the Dallas Cowboy Cheerleaders and all of that stuff. But it's kind of a dangerous thing to do when you're making a studio, PG-13 movie and trying to push the sexuality."
Despite this, he and editor Larry Bock — unpretentious veteran of "Rambo: First Blood Part II," "Breakin'" and "Bill & Ted's Excellent Adventure" — watched '70s cheerleader exploitation movies while editing. The relatively low-budget film ($28 million) was a sleeper hit ($90 million worldwide); like "American Pie," it spawned four increasingly shoddy direct-to-video sequels with little discernible relation to each other.
That minor success seemingly gave Reed the carte blanche to make "Down With Love," as obsessive an homage to the Doris Day/Rock Hudson sex comedies as Todd Haynes' "Far From Heaven" was to Sirk — with slightly broader sex jokes. The production design is glossy, the frame of reference specific, but both movies play like musicals without the musical numbers. If they're too bright and shiny to be subtle, they're bouncy enough to achieve a sort of grace.
The interview glosses over Reed's post-"Bring It On" career, which is a shame. "The Break-Up" isn't fun to watch, but it's unexpectedly scabrous for what should've been a light summer romance. (The New Yorker's Richard Brody actually compared it to Sirk.)
In Reed's telling, Vince Vaughn's storytelling ambitions, Jennifer Aniston's post-Brad Pitt angst and Reed's own relationship woes made for a film that "can be very unpleasant to watch" but came from a place that "was very real to all of us at the time." (The movie somehow made money anyway.)
The interview ends with the off-the-record-ish disclosure that Reed's quitting comedy and working on vintage sci-fi. He's obviously a cinephile and, if not turning out quite the type of films that get you deemed an auteur these days, is at least someone trying to make formulaic comedies and dramas seem fresh again.
Here's one of Reed's Superchunk videos (co-directed with Phil Morrison) that turns the "Smells Like Teen Spirit" mosh pit and thrashing into a more innocent pillow fight, complete with milk and cookies:
[Photos: "Bring It On," Universal, 2000; "Down With Love," Twentieth Century Fox, 2003; "The Break-Up," Universal, 2006]