Bill Murray teaches us how to leave the room.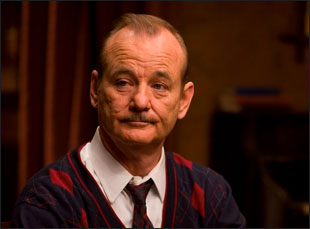 Posted by Vadim Rizov on
We're living through a golden age of Bill Murray interview — which is to say he's actually doing them. On TV, Letterman's the only host sharp and pissy enough to keep up with a guy whose public appearances almost always involve some kind of performance art element.
Many comedians have a reputation for being self-loathing and/or hard to deal with; Murray, though, is almost scary, as in the much-bandied-about story where Murray comes up to someone in a park, puts his hands over their eyes, then says "no one will ever believe you" and walks away.
Even when he's inexplicably serving drinks to the SXSW crowd, there's something there a little hard and off-putting. If Murray had been born 20 years later, he could've given Vincent Gallo a run for his money.
As Dan Fierman notes in his GQ interview with Murray, the man has "sat down for exactly four prolonged media encounters in the past ten years." After his own encounter had gone on for long enough, Murray "decided the interview was over and was gone. As best as I can tell, he was not fucking with me. But who knows?"
No one does, really. Still, for a man who often treats his TV appearances as a semi-hostile game, the GQ interview is very straightforward. He doesn't tell a single joke, which clarifies a lot. It turns out that Murray's special brand of candid response (the result, we presume, of not having a handler to tell him to hold his tongue — what does he have to fear?) is inherently hilarious.
His long explanation of how he came to be involved in the "Garfield" movies is despairingly eloquent, a study in profane resignation ("It wasn't written by that Joel Coen"). He mentions how "Kung Fu Hustle" blew him away and how Elvis Mitchell changed his life (really!).
But hanging over everything is his SNL time; specifically, the knowledge that he's been the most productive survivor of the early years. John Belushi's dead (he can't even remember exactly how many years it is), Chevy Chase is back on "Community" after an indefinite direct-to-DVD purgatory, Dan Aykroyd's ranting about UFOs on CNN and as for Garrett Morris, Jane Curtin, Laraine Newman and the rest of the gang… well, you get the idea. Murray's the last man standing.
There's a point to Murray's elusiveness, game-playing and willingness to leave without a second's notice. It's about dignity — as he points out, he's "retired" a few times (the "Ghostbusters" money surely doesn't hurt).
In the '90s, he carried otherwise unremarkable movies to moments of inspiration (and if you don't believe me, watch him somehow survive the man-bonds-with-elephant movie "Larger Than Life" with a few laughs intact). Then he was a sad arthouse man, and now he's entered another phase, one in which his public persona takes up just as much (if not more) cultural space than his movies.
That's what leaving the room with dignity is about: his once equally talented colleagues couldn't figure it out, so they had to burn out publicly. Over the years, Murray's made himself more opaque and menacing. He's a comedian who inspires love and fear in almost equal measure. And that's how you get to leave the room whenever you want: because people don't want you to leave yet, and you scare them just a little.
[Photos: "Get Low," Sony Pictures Classics, 2009; "Garfield," Twentieth Century Fox, 2004; "Larger Than Life," MGM/UA Home Entertainment, 1996]