Bad Stunt Double Theater: "Predator"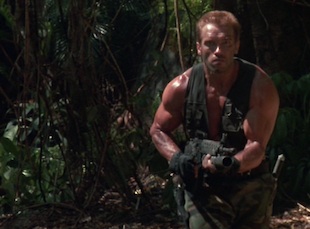 Posted by Matt Singer on
Like a lot of critics this week, I revisited "Predator" this week in preparation for the new "Predators" sequel. The movie holds up pretty well for what it is: a cartoonishly outlandish sci-fi action slasher with a nice undercurrent of commentary on mankind's (and alienkind's — people are alike all over, doncha know) obsession with and overreliance on high-tech weaponry.
For a movie that's already almost 25 years old, the effects still look great too. Sure, when the Predator grips things in his rubbery mitts with those long fingernails, he looks like a woman who just got a manicure trying to grab a pen. Otherwise, the creature's design and execution by Stan Winston is top-notch.
Not so top-notch, though, is the selection of the dude to fill-in for star Arnold Schwarzenegger during a jump off a waterfall. I imagine it's not easy to cast a stunt double for 6′ 2″, 250-pound guy like Arnold. His unique physique is a big reason why he became a special action star. But there had to be a better double out there than this guy. Take a look. Here is he falling:
Even in blurry sillouette, there is no question: that is not Arnold Schwarzenegger. I mean, look at those arms! It's especially glaring in "Predator" because the film spends such an inordinate amount of time, even for a Schwarzenegger vehicle, fetishistically gazing upon Arnold's enormous guns. Here's the infamous shot of Schwarzenegger's Dutch and Carl Weathers' Dillon high-fiving and flexing reeeeeeally hard:
More evidence. Schwarzenegger:
Schwarzimposter:
Schwarzenegger:
Schwarzimposter:
Back! And to the left! Back! And to the left! Anyway, that guy wouldn't look believable doubling for skinny Adrien Brody in "Predators." Speaking of which: the new film comes out Friday and we'll have a review on IFC.com then.