Ask Sylvester Stallone A Question (Or One of Ours)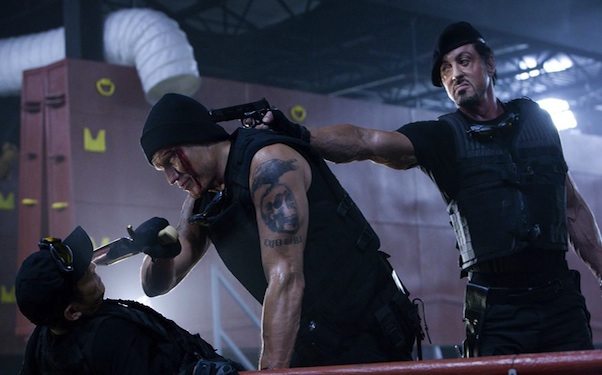 Posted by Matt Singer on
It's time for "The Expendables" press tour, which means its time once again for Sylvester Stallone to start answering fan questions on Aint It Cool News. The last time Stallone did it while promoting "Rocky Balboa" back in 2006, he received over 150,000 queries and answered over 200. It was actually one of the best things AICN has ever run, and in answering some tough questions (His least favorite of his films? "Stop! Or My Mom Will Shoot!") as well as evading others (No response to the query about what it was like to tell Talia Shire she wouldn't be appearing in the last "Rocky) they showcased a side of major movie stars we rarely get to see: their unvarnished, unfiltered honesty. Plus, fun bits like:
For the love of all that is good and Holy. How do you use the 3 seashells?!

OK, this may be bordering on the grotesque, but the way it was explained to me by the writer is you hold two seashells like chopsticks, pull gently and scrape what's left with the third. You asked for it…. Be careful what you ask for, sorry.
Um, ew. So Stallone and AICN are doing it again for "The Expendables." You can email your questions to hk@AintitCool.com; make sure you put "Stallone will NEVER be EXPENDABLE!" as the subject line. If you can't decide what to ask, here's five suggestions to get you started:
-Are you the inventor of the cinematic training montage? If you're not, who is?
-Did you ever eat at Planet Hollywood? If yes, didn't you find it a little kind of unappetizing to eat under a naked frozen version of yourself?
-Speaking of the naked frozen "Demolition Man" why were there so many of those made? I ate at like a dozen different Planet Hollywoods in my life; every single one had naked frozen "Demolition Man." What did you need all of those things for?
-Does taking someone "over the top" in arm wrestling actually work?
-How did you grow four inches between 1985 and now?
The first round of questions is supposed to go up later today, so get cracking!