The overdeveloped titles of Andrew Niccol's films.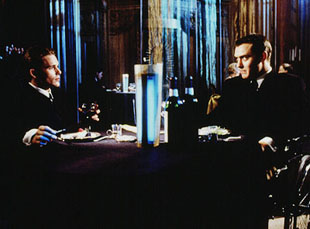 Posted by Vadim Rizov on
Andrew Niccol's first film in five years is a sci-fi love story set in a future in which, according to Variety, "time has become the currency. Once you turn 25 and your aging gene turns off, you must buy and bank time. If you are rich enough, you can live forever. But if you run out of time, you are engineered to die automatically." Amanda Seyfried has just been cast.
There was a time when the news that Niccol was going to make another insanely ambitious-sounding movie full of sweeping concepts and sweaty paranoia would have been cause for much excitement. Unfortunately, that time was 1998, a year after Niccol's "Gattaca" had been released and as "The Truman Show" — which he wrote, thought director Peter Weir reportedly removed a lot of the more over hysterical elements — was hitting theaters. Niccol seemed poised for Christopher Nolan-esque things. He could package high-concept notions in the guise of more exciting populist fare.
But then there's his title problem.
Now, "Gattaca" isn't terribly catchy, but it combines the four letters used to label DNA nucletide bases, which — I suppose — is part of the reason I ended up watching it in tenth-grade biology class. At least it sounds good — if you like the inscrutable, it's a neat way to pique your attention.
But Niccol followed that up in 2002 with "S1m0ne," the most typographically annoying title since "Se7en." The movie itself is a dispatch from Al Pacino's late "hoo-aa" days, a clunky satire about notable truths like hey, we live in a superficial, celebrity-obsessed culture. But that title! It's got the 1's and 0's of binary code, and it's also an abbreviation for "Simulation One." A lot of characters in the movie are named after computer brands, and at a certain point you have to just throw your hands up.
Niccol's last film was the relatively normally titled "Lord of War" — from a Liberian dictator's muddling of "warlord" — but this new project called "I'm.mortal." Why? At least "Gattaca" was clever-ish — this is just two words combined into one with a period that's been drafted into service. It barely qualifies as a pun. Much worse, it can't help but bring to mind will.i.am, and overwhelming Black Eyed Peas associations probably aren't the first thing you look for in a concept-heavy sci-fi film.
[Photos: "Gattaca," Sony, 1997; "The Truman Show," Paramount, 1998; "S1m0ne," New Line, 2002]