Exclusive Online Premiere: "Altamont Now"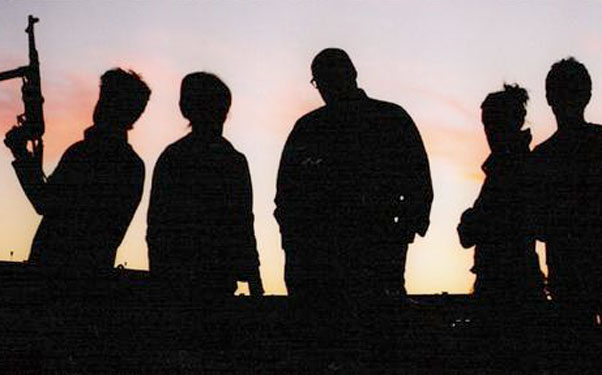 Posted by Stephen Saito on
After winning prizes and praise at underground Film Festivals in Arizona, Atlanta and Denver, Joshua von Brown's "Altamont Now" is surfacing on DVD this Tuesday (you can order a copy here). To celebrate the occasion, Factory 25 has been gracious enough to stream the entire film on IFC.com all week.
The film is a discovery in more ways than one — it claims to be a lost film that von Brown took from the clutches of a fellow filmmaker who documented a power-mad radical rocker named Richard Havoc leading a clueless band of revolutionaries (who call themselves the Cult of the Kids) to a missile silo. There, they dictate a new world order to America over their local public access channel and threaten to set off a nuclear device.
In reality, von Brown adapted David Bucci's play without ever seeing it staged, but really did find an abandoned silo to shoot the satire in, giving "Altamont Now" an authenticity as it sends up hipsters short on smarts, but high on entitlement. With his film hits homes everywhere, von Brown answered a few questions via email about why he was attracted to "Altamont Now," how one goes about finding a military silo to film in and the film festival that freaked out John Waters. Check out the film below, and read our interview after the jump:
[Update: Sorry! The online preview of the film is now over.]
If you never saw the play, how did you stumble onto David Bucci's play and why did you want to turn it into a feature?
Oddly enough, Bucci's original staged play of "Altamont Now" starred Todd Lowe (Terry from "True Blood" and Zack from "Gilmore Girls") as indie rock star Richard Havoc. But I never saw it — I couldn't afford to travel down to Austin. Bucci was a friend and I was a huge fan of his work, so he let me read the play even before it was produced. It was one of the most unique pieces of work I'd ever read. The full title was "Altamont Now: An Exploitation Film for the Stage," so there was an obvious deep connection to film.
What attracted you to the era being depicted?
I have a ton of love for 1960s Youthsploitation culture (as seen in movies like "Wild in the Streets" and "Riot on the Sunset Strip"). It's hard to imagine in our era of Pitchfork reviews and overly savvy indie rock blogs that young musicians were once earnestly concerned with starting what they thought was an actual revolution against society. How charming! But "Altamont Now" satirizes indie rock kids who don't realize how much of their rebellion is repeating this cultural moment over and over again (and is often sold back to them by large corporations).
There's a sitcom within the film and several of the music scenes are shot like music videos. Was part of the appeal being able to shoot in a variety of different styles?
So many of the elements in Bucci's play appealed to me as ripe for satire: indie rock stars who are obsessed with taxes, energy drinks, overuse of the word "whitey" by white people. But in adapting the play into a film, we added even more elements to further hone the themes.
For example, the sitcom "Why's Daddy Actin' Funny?"– a fake 1980s sitcom which is like a reverse "Diff'rent Strokes" (a well-to-do African American family adopts a cute little white girl). The sitcom highlights the racial undertones of The Cult of the Kids' so-called revolution: their language of rebellion is pulled directly from Black Panthers and blaxploitation movies (and ridiculously so). It was really fun to throw all sorts of crazy things into the cinematic stew — we were all totally laughing while shooting, but honestly, I had no idea how the film would turn out until we put the entire cut together in editing.
How hard was this to put together, in regards to the archival clips you use and missile silo where the film is shot?
Putting this film together was… hard! Yeah, what optimistic and naive person decides to set their first feature — totally no-budget — inside an abandoned nuclear missile silo? Producer Lauren Eskelin and I did a ton of research looking for something suitable, and we had multiple leads fall through. Only when our intern Jennifer came across "Siloboy" in a last-ditch Google search where our prayers answered: an actual Atlas-F nuclear missile silo restored to its former glory by a wonderful Australian architect (thankfully restored without the missile).
But then, once we secured this missile silo to shoot in… it was cold. And damp. And dark. And… exactly what you'd imagine filming multiple stories underground for days on end is like. Everybody working on the film was so nice to roll with it though, we had a great team. Maybe it was a novelty.
The archival clips, on the other hand, were easier. They are mostly military and FBI training films from the 1950s-'60s (I'd like to give a shout-out to the U.S. government.)
Did you have a favorite experience on the festival circuit?
The B-movie Underground Trash Film Festival of the Netherlands (BUTFF!) is amazing, more people should know about it. The scene is the real underground of Europe, lots of interesting people whom you don't normally see at film festivals (think less Twitterers, more squatters). We screened the film there last year, and John Waters was the special guest of the festival.
One night, all the attendees and filmmakers, including Waters, gathered to drink beer and watch a live performance from a group from Berlin called Aesthetic Meat Front, which consisted of industrial music, extreme body mutilation, hanging from hooks and smearing cow's blood on the audience. Out of the corner of my eye, I could see that maybe, just maybe, John Waters — the visionary who got Divine to eat dog crap on camera– was a little freaked out! (Personally, I was clearly freaked out and cowering in the corner.)
Now that the DVD is coming out, what does it feel like to reach the end of a certain period in your life with this?
It feels awful and sad! Why did you remind me? Actually, I am super excited to get "Altamont Now" out to the general public. I want everyone to see it. Please show it to your grandmother! And if she likes it, maybe she'll buy me a nice sandwich?