Albert Brooks' secret epic aspirations.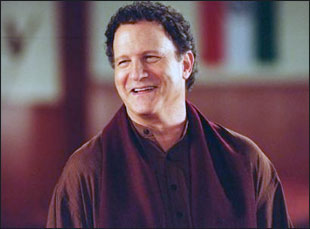 Posted by Vadim Rizov on
Despite his status as one of the more cerebral comics to emerge from the '70s, Albert Brooks — unlike rough stand-up contemporaries Woody Allen and Steve Martin — has never been much of an essayist, and certainly not a book-writer.
Until now: next May will see the publication of his first novel, "2030: The Real Story of What Happens in America," which more or less makes it sound like Brooks — who hasn't made a movie in five years — is entering his Al Franken period. The plotline sounds awfully didactic:
A population that has finally been freed from the scourge of cancer is dramatically aging, sparking resentment against the 'olds' and leading to a nation so hamstrung by entitlements and debt that its only way out are solutions heretofore unthinkable.
In the brief accompanying interview, Brooks also invokes taking "to the streets" during Vietnam and laments that the kids aren't doing the same. "From what I'm reading, with the iPhone 6, they won't have to," he says, in a regrettable display of cranky-old-man-ness.
One part of the interview, however, was unexpected. Brooks confessed to relief at not having to write with budgetary considerations in mind. "I would type, 'It was a stormy night,' and I'd cross that out," he said. "'It was a pleasant night,' and I'd cross that out. 'It was noon.' I'd cross that out. 'He stayed in bed.' That's what you do with a script. You know how much everything costs." Now, he's finding the process so pleasant he's already at work on a second book, happily freed from financial pragmatics.
What's surprising about this is that you wouldn't guess from his films that Brooks was having a hard time realizing his vision. Effects, action sequences and elaborate stunts are basically unknown. In his best work, Brooks (more or less as an asshole version of himself) commands the screen. The claustrophobia that emerges from watching him dominate constricted spaces through sheer tense energy (as in twin peaks "Real Life" and "Modern Romance") makes the relative cheapness of the set-ups a positive asset.
It'd never occurred to me that Brooks had larger visions. Some low-budget filmmakers clearly don't want to work with restricted physical resources (John Sayles keeps trying to make epics on the cheap, which certainly seems true of his latest, a Philippine-American war saga).
Comics, though, normally are their own best prop. Unless they're going the pure physical comedy route (which, this not being the silent era, doesn't happen often), their film generally don't require elaborations on top of that. I suppose if the cliche about how within every comedian resides a frustrated tragic actor is true, every comic writer/director wants to be a… dystopian soothsayer?
In the meantime, here's Brooks from 1973 on running out of material:
[Photos: Albert Brooks on the set of "Looking for Comedy in the Muslim World," Warner Independent, 2006; "Real Life," Paramount Pictures, 1979]