Alan Moore Rejects Offer For "Watchmen" Rights In Exchange For Work on Sequels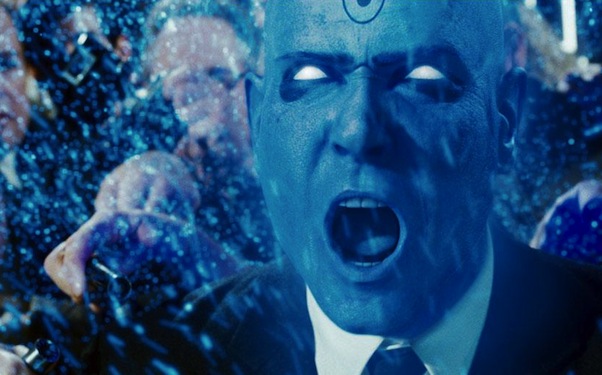 Posted by Matt Singer on
For years, Alan Moore's battled with DC Comics over the rights to his series "Watchmen," perpetual best-seller and source material for a 2009 movie directed by Zack Snyder. According to a 2006 interview with the New York Times, Moore felt like the company swindled him by getting him to sign a contract that agreed to return the rights to "Watchmen" (and another series, "V For Vendetta") to him when the book went out of print knowing that since had no intention of ever letting the books go out of print, they'd never have to give the rights back.
After the "Watchmen" movie (which Moore demanded his name removed from) grossed over $180 million dollars worldwide and reignited sales of the original graphic novel, DC was understandably interested in expanding the property. Now Moore tells Wired.com that DC offered him back those "Watchmen" rights he so highly coveted once, but at a price he wasn't interested in paying.
"They offered me the rights to Watchmen back, if I would agree to some dopey prequels and sequels," says Moore in the interview. "So I just told them that if they said that ten years ago, when I asked them for that, then yeah it might have worked. But these days I don't want 'Watchmen' back. Certainly, I don't want it back under those kinds of terms."
Meanwhile, at Comic Book Resources (said in your best '60s "Batman" TV show narrator voice), DC Comics co-publisher Dan DiDio refused to confirm the details of any offer to Moore, but basically agreed with them by noting "we've been saying for a while… that 'Watchmen' is truly one of the premier projects out there, and if we were ever to proceed with [a sequel] the most logical place to start would be with Alan and ["Watchmen" illustrator] Dave [Gibbons]. For me, it's one of those things that's still one of the crown jewels in comics."
But after years of complaining, the king no longer wants his crown jewels back. I guess this technically should be disappointing news for "Watchmen" fans, since it means they won't be getting more material set in the "Watchmen" universe.
But do "Watchmen" fans even want more material set in the "Watchmen" universe? Like a lot of masterpieces, "Watchmen" didn't leave a lot left to be said. Seems like Alan Moore agrees.