Adrien Brody, unlikely action star.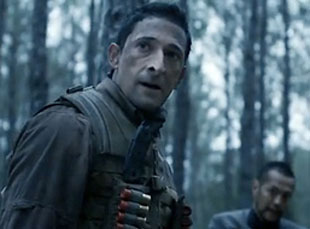 Posted by Vadim Rizov on
Adrien Brody's body of work is so studiously eclectic that the only surprising thing about his new bid for action hero status in "Predators" is that he didn't try it sooner. Mr. Brody, the youngest male to receive the award for Best Actor at the Oscars (at age 29, for "The Pianist"), is also one of only two Americans to win a César (the other was Johnny Depp, for "The Man Who Cried").
He's a hip-hop enthusiast who dreams of someday being a producer and an intense Method freak (he learned to play Chopin for "The Pianist" and became a plausible ventriloquist for "Dummy").
Mostly, though, Brody is a very good actor with sometimes dubious taste in scripts. His "full retard" schtick in "The Village" was painful, and some of his post-Oscar choices are puzzling (why "The Jacket" or, god help us, "Manolete"?). But he's delivered a surprising number of surprisingly solid performances in above average movies: "The Brothers Bloom," a part in "The Darjeeling Limited" that gave Wes Anderson's dialogue a non-Anderson-y feel (a tricky achievement), running around adroitly enough in "King Kong."
When it comes to playing an action lead, he understands exactly what the problem is and doesn't tiptoe around it: "The comment is constantly like 'skinny actor.' I'm thin. I'm not skinny at all," he told the Los Angeles Times' Amy Kaufman. "At the end, I think I scared them because I had grown a lot and they were all pretty shocked at how I looked."
The evidence is reportedly on-screen, but it's not a bid for a permanent paycheck upgrade, a la Nicolas Cage. Kaufman notes that "it appeared that he had since shed much of the muscle mass he gained for the film." (Presumably he won't need it for his inevitable one-off Woody Allen appearance in "Midnight in Paris," as Allen continues working with every English-speaking actor of note.)
In light of Sylvester Stallone's clarion call for a return to muscle-bound men hitting each other without the help of CGI (he said when actors could "Velcro their muscles on, it was over"), it's heartening to see Brody taking on his own body as the ultimate Method acting challenge — one he's happy to discard when his role is over.
"It's different," he said. "It's something I haven't seen of myself." Brody's comfortable treating his body as just another acting tool rather than a goal in and of itself. Here's hoping there will be no Cage change-up.
[Photos: "Predators," 20th Century Fox, 2010; "The Darjeeling Limited," 20th Century Fox, 2007]