A Stab at Marvel's Avengers Panel Backfires at Comic-Con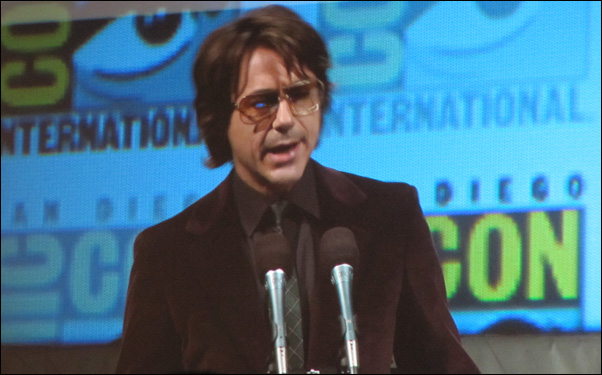 Posted by Stephen Saito on
If a stabbing happens at Comic-Con and there's a Marvel panel afterwards, did anyone really notice? That was the predicament facing the crowd in Hall H after two men got into an altercation over the precious seats shortly after the panel for "Resident Evil: Afterlife" finished up.
It resulted in one man being taking to the hospital on a stretcher and another being hauled away in handcuffs (and worse still, a t-shirt with a ransom for Harry Potter given away earlier in the day, reading "Undesirable No. 1") amidst rumors that he stabbed the other man in the eye. (Police later confirmed it was "around the eye socket" and not the gruesome simplification that quickly spread among the crowd as trailers for "Gulliver's Travels" and "Tron Legacy" played as the cops investigated.)
It was a testament to "The Avengers," a film that can't possibly live up to the immense expectations of its fans, that it was all anyone could talk about just two hours later, even though only Samuel L. Jackson and Robert Downey Jr. spoke for roughly five minutes and introduced the cast that will join them in the 2012 spectacle. (A testament to that, and short attention spans, which Marvel Studios president Kevin Feige appears to be planning to test after Comic-Con when hinting the studio will try to reboot "The Punisher" for a fourth time.)
"Don't anybody stab anybody anywhere until I'm done talking," said Downey Jr., after he followed Clark Gregg, Scarlett Johansson, Chris Hemsworth ("Thor"), and Chris Evans ("Captain America: The First Avenger") out on stage and took over introduction duties from Jackson.
"I come before you a very humble man strangely this evening in this most excellent company," Downey Jr. said. "I'm going to mention other movies. Did anybody see "Inception"? I think that was probably just about the most ambitious movie I've ever seen. And then I thought wait a goddamn second! Marvel Studios is going to take all of their top superheroes and they're going to put them all together in 'The Avengers'? That's the most ambitious movie I've ever seen."
Soon after, Downey Jr. tee heed, "I can't help myself. I don't know why" before bringing out Marvel newbies Jeremy Renner as Hawkeye, Mark Ruffalo as the Hulk, and Joss Whedon, of whom he said, "If we're going to make a movie this ambitious, the most important thing we all knew is that we had to find a person to help make it that would get your approval. Please give me the honor of also warmly welcoming our director Joss Whedon."
Receiving thunderous applause that was even a decibel or two above the rest of the assembled Avengers, Whedon stepped out and said, "Just very briefly, I want to say that I have had a dream all my life and it was not this good. I want to thank Kevin so much for bringing me on, for trusting me and assembling my dream team. This is the Avengers — a team that's more than the sum of its parts, this cast is more than I could ever have dreamed of working with, more and I am going to blow it, just so you know…I'm not up to it. I'm very nervous. I need your help and I need your support."
If the standing ovation that accompanied the entire presentation of the Avengers was any indication, Whedon already has it, with fans practically floating out of the convention center when it was all over, a preferable alternative to the way the first two guys left.