"Winter's Bone" and "Gangster's Paradise: Jerusalema"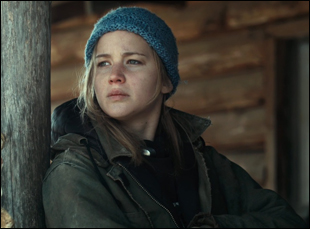 Posted by Bruce Bennett on
In the Ozark Mountain foothills depicted in "Winter's Bone," circumstances have awarded 17-year-old Ree (Jennifer Lawrence) a dubious promotion from high school student and eldest sibling to de facto head of the household. Her mother is nearly catatonic, and her father — who like much of her extended family and clannish impoverished community is involved in manufacturing methamphetamine — is routinely absent from home, either cooking meth, eluding the law or appearing before a judge.
Not surprisingly, when the local sheriff (Garret Dillahunt) arrives on the front steps unannounced, it is not to bring good news. Ree's father, he tells the girl, has jumped bail and vanished. Unless he's found, dead or alive, Ree's family will forfeit their house and a parcel of timberland that offers some small hope of legal income, both used as collateral to post bond.
With home and hearth on the line, Ree adds erstwhile detective to her résumé as she crisscrosses the ashen Ozark woods in a series of visits and run-ins with both kinfolk and co-conspirators, most notably her uncle Teardrop (John Hawkes), a combination of both. Ree's single-minded determination to keep her family together requires that she either find her father or bring enough of him back home with her to prove to the law that he's gone on to be judged by a higher power.
Winner of both the Dramatic Grand Jury Prize and the Waldo Salt Screenwriting Award at Sundance earlier this year, "Winter's Bone" is the second film from director/co-writer Debra Granik, whose gritty 2004 feature debut "Down to the Bone" provided a breakout for then-unknown lead Vera Farmiga.
And "Winter's Bone" is nothing if not high-minded about the cruel vicissitudes of poverty and the apparently very real world of meth factories, shotgun shacks and people living a nearly medieval existence defined solely by want and drug-fueled feuds.
"Do we eat these parts?" Ree's tweenage brother asks while helping to clean and dress a squirrel that they've bagged. "Not yet," comes Ree's reply, bleached of irony by the precarious survival situation she and her family face. "Winter's Bone" breathes the most life in this and other scenes of glum, marginalized domesticity. Outside of the house and yard, however, I mostly struggled in vain to find what it was the jury in Park City this past January saw in the film.
True, "Winter's Bone" is excellently cast and ably acted by familiar big and small screen actors like Dillahunt and Hawkes (whose current ubiquity is a pleasant thing to note), especially in comparison to the comparatively lighthearted depiction of a similar milieu in the FX show "Justified," in which rural southern jail widows, drug dealers and trailer park denizens are portrayed by more head-shot-friendly, gym-toned actors.
"Winter's Bone" also looks great — alternately sharp and smoky with a particularly evocative use of faces — which is commendable in light of it being shot digitally on the RED, a camera that has a tendency to betray realistic skin tones and soften details.
Yet Ree's resolutely grim approach to her mission, the elliptical way she seems to cover the same ground over and over and the dense, virtually subtext-proof dialogue written to conform to the backwoods setting's regional dialect prove to be insurmountable hurdles in investing more than passing empathy for a collection of tight-lipped, inscrutable characters.
Even with the clock of eviction ticking on Ree, as well as physical threats to her and her family that make starvation seem pleasant in comparison, and a deepening relationship with Teardrop unfolding, many of the key scenes in "Winter's Bone" seemed composed more of syllable brick-throwing than of conflicts and moments.