"The Wind in the Willows," take umpteen.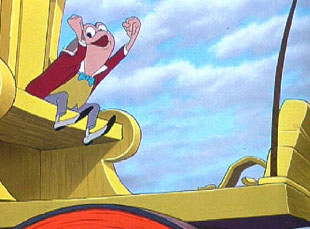 Posted by Vadim Rizov on
Of all the children's books that have cycled through different movie permutations without anyone ever getting it 100% right, "The Wind in the Willows" may well be the strangest. Kenneth Grahame's 1908 pastoral is one of the few things involving talking animals that doesn't insult anyone's patience, a super-nostalgic celebration of the Country Life, English style (we don't go out into the Wide World).
It's been adapted umpteen times, mostly by the British. The most prominent American version to date — the half-hour cartoon produced by Disney in 1949 — was titled "Mr. Toad's Wild Ride," celebrating the most "American" (the brashest, most technologically enthused, most derisive of tradition) character. When Terry Jones' frankly adorable version was finally released in the US, they retitled it that just for safety's sake.
The news that a new adaptation — live-action and animatronic — will start shooting this fall isn't surprising (it's been a whole four years since the last attempt), but it will mark a rare American foray onto this most quintessentially British property. The director will be Ray Griggs, perhaps best known as the man behind this charming little ad:
This would seem to indicate Griggs is not the most liberal guy on the planet, so why he's messing around with a rethinking of an original property in which "the animals join forces to save their land from a sinister plot that threatens to destroy the uneasy truce between the peaceful animals of the Willows and what remains of Mankind" is anyone's guess.
The rejection of CGI, at least at this point in development, is in keeping with the spirit of the book, which is charmingly anachronistic — and, it has to be said, every single previous adaptation has taken its cues from that stance. There are peaceful stop-motion versions, somewhat shoddy-looking animated ones (Rankin-Bass, natch), the Disney prototype, and — of course — the dearly departed Disney World ride.
My favorite version remains that Jones movie from 1996, which is too little known. It's a de facto Monty Python reunion (everyone's there except the late Graham Chapman and Terry Gilliam, for obvious reasons). I started watching it to refresh my memory for this post and could barely turn it off.
The Monty Python guys were all fully trained in the Oxbridge university system before setting out to change how humor could work, and this version is one of their few unironic, genuinely nostalgic takes on the British past they set out to trash, while still being distinctively in the old Python rhythms.
[Photos: "The Adventures of Ichabod and Mr. Toad," Disney, 1949; "The Wind in the Willows," Disney, 1996]