YouTube wins its copyright case with Viacom.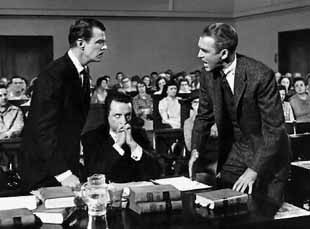 Posted by Vadim Rizov on
When two corporations engage in legal battle, like oversized Transformers locked in mortal combat, it can be difficult to know who to root for. In the case of Viacom vs. YouTube, however, the moral advantage lay (just barely) with the Google-owned video giant, which had been sued by Viacom for $1 billion in copyright infringement (55% of what Google paid for YouTube to begin with, no less).
Viacom insisted YouTube had an obligation to immediately remove all copyrighted clips from its website; YouTube said they only had an obligation to pull videos identified by their copyright holders. The judge sided with YouTube; since they pulled all videos as soon as they were identified, they're off the hook.
Here's why this is good news. First, this does seem like some kind of karmic lesson. For a long time Viacom's been secretly uploading clips through 18 different marketing agencies, often deliberately making the videos look messy to convey the impression of piracy:
Viacom's efforts to disguise its promotional use of YouTube worked so well that even its own employees could not keep track of everything it was posting or leaving up on the site. As a result, on countless occasions Viacom demanded the removal of clips that it had uploaded to YouTube, only to return later to sheepishly ask for their reinstatement. In fact, some of the very clips that Viacom is suing us over were actually uploaded by Viacom itself.
Corporations can rarely get everyone on the same page, of course, but that's going a little far. Either way, it wasn't a factor in the judge's summary decision in favor of YouTube — it was merely that their responsibility ended in removing the offending videos when identified. As anyone who's ever tried to find, say, vintage MTV clips on YouTube knows, Viacom has been more vigilant than most in obsessively monitoring what's on the website.
(First prize for YouTube watchfulness has to go to Universal, whose DVDs must have some killer identifying technology in them — most surviving clips are of people filming movies off their TVs. Surprisingly indifferent is Disney, who appear to have no problem with many of their movies being uploaded in full.)
Internet pirates can be an outspoken/obnoxious group, full of rhetoric about freedom of speech, creativity and why prices are too high and their backs are against the wall — a difficult position to take when you've got a hard drive full of movies and a high-speed connection to match, but never mind.
YouTube clips, though, are the least of a corporation's problems. If you want to watch a major corporate film from the last fifteen years or so, you probably don't even need to torrent. Just run a keyword search, and pretty soon you're streaming a low-grade copy of a film hosted — most likely — by a website based in Japan or China or by a service like MegaVideo, where users obsessively re-up movies as soon as they're pulled.
Compared to that, YouTube isn't that big of a factor. The reality is that this corporate whack-a-mole mentality is misdirected. Don't worry about clips — most people are so intent on hunting down their favorite moments rather than watching a whole film that you might as well run with it. The battle to protect material will be fought film by film until (hopefully) a legal solution is found that people will actually pay for. It'll be a case of pulling the movies one at a time, just as it is now.
I do wish, in any case, Viacom would knock it off a bit, if only because of weird situations like the "Beavis and Butt-Head" music videos — too expensive to license again for the DVDs, too good to be confined to VHS bootleg purgatory. Four months ago, a cache of B&B videos not available on DVD suddenly popped up on YouTube, and now I'm suddenly wondering if they're one of the group of videos uploaded surreptitiously by someone at Viacom. Really, I'll take any excuse to post this:
[Photos: "Anatomy of a Murder," Columbia, 1959; "Beavis and Butt-Head," MTV, 1993-97]