"Toy Story 3″'s latest marketing campaign has no time for loners.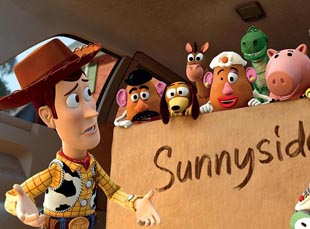 Posted by Vadim Rizov on
This summer's blockbusters offer a bleak landscape, with "Killers" this week, "The A-Team" next, and plenty of similar riches all the way down the line. "Toy Story 3" stands out as a beacon of hope, no matter that pesky number at the end of it.
Who doesn't have at least a little genuine affection for Buzz, Woody and the rest of the friendly faces that made an initially off-putting visual style warm and funny? Even the crabbiest of moviegoers has to admit that the two "Toy Story" movies hover far above your average children's animation (especially the sequel, which was near-miraculous).
So Disney has a lot of necessary goodwill to start as it tests the waters of Facebook marketing by offering tickets for "Toy Story 3" directly on Facebook itself, privacy issues be damned. "The whole idea is that no friend gets left behind," claims a Disney exec, managing to both paraphrase the film's tagline "No toy gets left behind" and play on audience insecurities that your pals are doing fun stuff and not inviting you.
In fact, you can also rope in non-Facebook users with this automated invite: "'Toy Story 3' arrives in theaters on June 18! Who are you bringing with you?" Because if you go alone, well…you're a loser?
Facebook's Dan Rose says it makes sense "because moviegoing is one of those activities that is inherently social." This may well be true — the communal experience of sitting in a darkened hall with lots of other people, all thrilling in unison, etc, etc — but part of me resents the logic.
The actual physical act of watching a movie is, in fact, anti-social, unless you're just going to be a jerk about it and jabber on with your companions. The social aspects are ritualistic, involving braving the ugliness of the initial plunge into the multiplex (and the purchasing of overpriced refreshments if you're into that) and discussion upon exiting.
Meanwhile, if you're an overly sensitive viewer, watching a movie with your friends can, under the worst circumstances, be actively distracting. What if you drag them to something and they hate it? Are they laughing? Are they bored? If none of you like it, what then? Do you give in to the urge to turn the theater into your own private bitch-fest?
In my opinion, the whole "communal" aspect of film-watching is overrated. Playing on people's fears that they're doing the social activity of filmgoing the "wrong" way may be brilliant marketing, but it's a little unpleasant.
[Photos: "Toy Story 3," Disney, 2010]