Author Tom Bissell Details His "Extra Lives"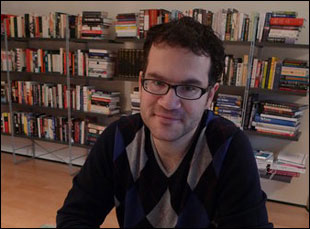 Posted by Evan Narcisse on
Even the most sophisticated, verbally gifted gamer can find it daunting to explain the occasionally obsessive love affair with pushing buttons to the curious or skeptical. Parallels to the pleasures of other mediums can hard to draw, and the sticky preconception of what games are and who plays them don't help either. While there have been books that cover the video game medium as a business or an entertainment phenomenon, not many have tackled the unique creativity and symbiosis that binds player, creation and creator together. "Extra Lives" attempts to do that.
The book, by Portland author Tom Bissell, looks at several major video game releases over the last few years — "Fallout 3", the "Mass Effect" games, "Left 4 Dead" and "GTA IV," among others — and talks about what makes them work as cultural artifacts. In his non-gaming life, Bissell's written three acclaimed novels that have earned him the Rome Prize and, more recently, a Guggenheim Fellowship. He also teaches fiction writing at Portland State University.
But "Extra Lives" isn't some dispassionate intellectual treatise. Bissell channels his own subjective experiences with each game into interviews and interpretations that form a larger conversation about how the medium understands itself. Here, Bissell talks about the medieval parallels to how video games get perceived today, what the acclaimed PS3 thriller "Heavy Rain" got right and why his girlfriend doesn't need to read his book.
I'll start off with a personal question: Did you write "Extra Lives" for your girlfriend? It just seems like the kind of book you hand somebody to so they can understand something they find impenetrable. (And I mean that as no slight on your significant other…)
That's funny. I didn't, because my girlfriend actually plays games with me and thinks highly of the medium's potential. But I suppose I did write it for some theoretical girlfriend, or parent, or sibling, who wonders why on earth any self-respecting adult would want to play video games.
Your jacket copy makes it seem like you treated your gaming as a dirty little secret. How accurate was that?
Meh. Not very. I mean, somewhat accurate. Only in about 2007 or so did it become clear to me that games could stand proudly beside other storytelling mediums, and that's when I became more, shall we say, evangelistic in my position. Prior to that, I don't know how enthusiastically I would have admitted that I game.
In "Extra Lives," you're writing about some of the most high-profile games in the last five years or so. How'd you get the access to these developers like Peter Molyneux and Clint Hocking?
My first piece about the industry was for the New Yorker — a name that obviously opens some PR doors for you. In writing that piece — which was about Cliff Bleszinski and Epic Games — I got to be friends with a publicist who works for Microsoft, and he set me up with a lot of other companies when I mentioned wanting to write the book. He really understood what I wanted to do with it, and supported it, and helped me greatly. So Mark Van Lommel, this one's for you.
What made you pick these specific titles, studios and creators?
To be brutally honest, every game I wrote about was a title I either felt an intense connection to or one that was created by a company who agreed to talk to me. A lot of companies didn't. Ken Levine, for instance, said no, which was a drag, because I very much wanted to write more in the book about "BioShock."
What other games did you want to write about, but couldn't fit in?
I also wanted to write about "Mirror's Edge," which is an absolutely fantastic game. I think so, at least — I know many who dislike it intensely, and that was part of what I wanted to address. But DICE never got back to me. I also had a chapter about "Shadow of the Colossus" in there at one point, but it was pretty inert. I found that game impossible to write about, for whatever reason. Probably due to the intensely individualized nature of the experience it offers you.
Do you feel like you could've written "Extra Lives" ten years ago, when maybe game-makers where less self-conscious about the craft of what they were doing?
I couldn't have, no. The kinds of games I'm most interested in are narrative games. There are a few reasons for that, but I think the two most important are the fact that I'm a fiction writer, and take storytelling methodology very seriously, and that it's simply easier to write about game experiences that are framed around some kind of narrative. Ten years ago, that would not have been possible. There simply wasn't enough narrative.