"Wanted" director Timur Bekmambetov starts a film festival.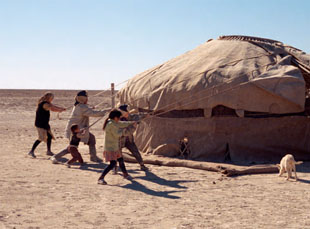 Posted by Vadim Rizov on
Timur Bekmambetov, of "Night Watch" and "Wanted," has started a film festival in Kazakhstan, which is awesome. According to the Telegraph, this is Kazakhstan making peace with Hollywood after the humiliation of "Borat":
Four years after the Central Asian nation banned the film which portrayed its people as backward, anti-semitic misogynists, it is flying in top names from the US movie industry for the first Astana International Action Film festival.

Harvey Weinstein, the US producer; Mike Tyson, the US boxer; and Dolph Lundgren, the Swedish actor and martial arts expert, have all confirmed their attendance, festival director Iren Vanidovskaya announced on Thursday in Astana, the Kazakh capital.
They're sort of joking, but not really: Kazakhstan wants to convey to the outside world that they aren't a backwards republic of goat-herders, and they sometimes take it out on their own filmmakers.
Screening sheepherding epic "Tulpan" at the New York Film Festival three years ago, director Sergey Dvortsevoy noted that the official government reaction was appalled: "This is worse than 'Borat,'" they said in his telling. "Why do you show this steppe? Please present Kazakhstan as a modern country. We have a lot of cities, we have a lot of buildings."
Three cheers, then, for Bekmambetov, the most globally successful Kazakhstani director in film history. Now sitting on an infinite variety of projects to which he may or may not actually be attached, like "Wanted 2" and a "Wizard of Oz" reboot, he's in a position to organize the first ever "Astana International Action Film Festival." This means that Asheville's just-debuted Actionfest is no longer the only festival devoted exclusively to the art of kicking ass.
Unlike Actionfest, Bekmambetov's event seems shamelessly devoted to the art of the big-budget, big-resource film. The line-up stretches the "action" parameters by including "Twilight: Eclipse" and "Despicable Me" (not to mention James Toback's "Tyson").
There's also a mini Tarantino retrospective — only the "Kill Bill" movies, "Sin City" and "Death Proof," which constitutes an intriguing way to think about how he may have changed. (Is "Pulp Fiction" even remotely an action film? Has Tarantino mastered the art of the large-scale action sequence in a way he couldn't a decade ago?)
There's a new version of "Iron Monkey," a smattering of Asian work, Uwe Boll's new film ("Max Schmelling"), and — in an indication of the kind of movie long banished from the American multiplex but still welcome and profitable abroad — Dolph Lundgren's latest triumph as his own director, "Command Performance," the trailer for which is here:
I'm not being snarky — this will be good for the region economically, and it helps the Kazakh government in (sigh) "rebranding" itself for the outside world. It also speaks well of Bekmambetov (whose work I like) that he's willing to use his new-found clout to help his homeland out, and it's all round a good thing. I just wish the movies were a little better.
[Photos: "Tulpan," Zeitgeist Films, 2008; "Night Watch," Fox Searchlight Pictures 2005]