"The Tillman Story," demystifying an American hero.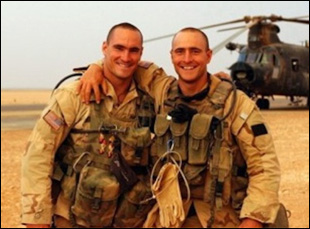 Posted by Stephen Saito on
Reviewed at the 2010 Los Angeles Film Festival.
"Everybody who speaks about the Tillman family says, 'I don't want to speak for them,'" said Amir Bar-Lev, who admitted he was developing a habit of saying the same thing during what was his eighth festival Q & A for "The Tillman Story," his doc about the lies and deception that befell the family of NFL star-turned-fallen soldier Pat Tillman after he was killed by friendly fire in Afghanistan.
Strange words from someone who spent years making a documentary about the family, but certainly understandable once you meet the Tillmans, an outspoken clan given to the F-word, but disciplined enough to have once had a rule in the household where if anyone was on the telephone, they would have to conduct their call in front of everyone else.
In an interview before his death, Pat tells an admiring story of his mother Dannie, who once ran the San Francisco Marathon and finished dead last as volunteers were dismantling the finish line, but finished nonetheless. As Bar-Lev makes clear, such tenacity was passed onto her son, a talented athlete who at 5'11" was considered too small to make it to the pros, but was drafted by the Arizona Cardinals and for three seasons would knock the stuffing out of opposing offenses as a safety.
Lesser known was that his voracious appetite for wide receivers was matched by a quest for knowledge, as Tillman would read Noam Chomsky and the Book of Mormon with equal vigor and though he was not religious himself, he adhered to a strict code of conduct that seemingly preached humility and responsibility.
Narrator Josh Brolin intones, "We'll never know exactly why Pat Tillman enlisted," but Bar-Lev lays out as much as there is to know about the way he died and the mythmaking that followed, courtesy of the U.S. military and the mass media. With footage tracing the scene of Tillman's death provided by fellow soldier Donald Lee, "The Tillman Story" picks apart the details of the skirmish that claimed Tillman's life that no one can seem to agree upon, from what distance he was shot at from (possibly as close as 40 feet) to whether there was even enemy fire (a claim Dannie believes).
The only common consensus among the military is that those details should be kept from Tillman's family, with their vast cover-up and subsequent media campaign to "Paul Bunyan-ize" him, as Bar-Lev called it after the film, slowly but steadily pecked at by Pat's parents or brothers who wouldn't let their grief compromise their values. (In one of the film's most damning scenes, it's shown that Pat smuggled out the document to his wife that states he never wanted a military funeral before shots of Maria Shriver and John McCain can be seen paying their respects at a full-fledged gala in San Jose.)
While much of the credit for exposing the military's misdeeds belongs to the Tillmans, Bar-Lev achieves no small feat in parsing out a complicated narrative and picking up on the family's outrage without turning it into a partisan or anti-military screed. He was fortunate to have gotten in touch with Stan Goff, a wisecracking former soldier and blogger at the Feral Scholar who was sought out by Dannie to "read the hieroglyphics" in the 3000 pages of documents she receives on her son's fratricide.
Goff similarly decodes the military speak for the film and adds a much-needed levity to the proceedings that makes the tough medicine easier to swallow. Likewise, the Tillmans themselves appear as a level-headed, amiable bunch whose determination and hard-earned appreciation of the absurdity of being so wronged makes you only wish you had their kind of reserve.
After dismantling the mass media's eagerness to turn Tillman into a hero, it could be argued that Bar-Lev merely takes such lionization in a different direction, creating heroes out of the entire Tillman clan and in particular, Pat, whose intellectual muscle is put on par with his physical brawn, further rounding out his iconic appearance to be all things to all people. Bar-Lev gives credence to this idea by opening the film with footage of Tillman in a Cardinals uniform sitting silently as he waits for an interview to start.
But there's too much humanity on display, whether it's in interviews from those closest to him or the all-too-brief glimpses we get of Tillman while he was alive, to think of him as anything but a person who was capable of extraordinary things, but desperately wanted to be considered ordinary.
With that in mind, Bar-Lev's initial pitch to the family of a film about Pat — and all about Pat — wasn't embraced immediately. As Bar-Lev said after the screening, the family feared a film would only "contribute to the hagiography" built up around Pat; Pat's brother Kevin, who enlisted at the same time, doesn't appear at all in the film except for archival footage and provided behind-the-scenes background to the filmmakers, and Pat's youngest brother Richard only agreed to be interviewed on camera after seeing a mostly complete cut of the film.
Bar-Lev and a mostly quiet Brolin fielded questions mainly concerning the military's mishandling of the friendly fire shooting and other situations like it, but the director did answer a burning question for those who saw the film in Sundance when it was called "I'm Pat Fucking Tillman," a nod to Tillman's defiant final words to his fellow soldiers on the battlefield.
After Bar-Lev was "dragged kicking and screaming," he agreed to change it when realizing the potential for jokey rewording ("I'm Fucking Pat Tillman") and limiting his audience, noting that Tillman has many admirers who would be put off immediately. Regardless of what it's called, "The Tillman Story" should attract plenty of admirers when it's released on August 20th.
[Photos: "The Tillman Story," Weinstein Company, 2010]