The Joy Formidable, sound and vision from Wales [contains banned material].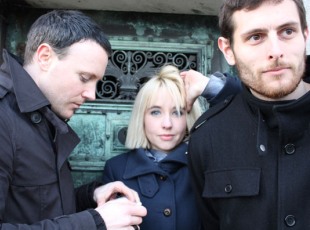 Posted by Brandon Kim on
Welsh people have great names. Names like Rhydian, Ritzy, and Brandon. Real Celtic Briton stuff, not like those murderous Norman and Saxon Edwards and Harolds. Nay, Welsh names sing. The Joy Formidable grew out North Wales, an enormous record collection and the friendship formed at school between Ritzy Bryan (vocals/guitars) and Rhydian Dafydd (bass). They've since moved to London, and been rocking the UK with drummer Matt Thomas (they must have picked him up there) as a trio for a while now.
Their release A Balloon Called Moaning just released here in the States a couple weeks ago on Black Bell. They have a bunch of videos which we've got cobbled together here for your viewing pleasure, and you can also download them from the widget below. A point of interest – I've never seen a video that was banned from YouTube before. I'm certain it happens all the time, but this fan video for The Joy Formidable's "Austere" is the first I've laid eyes on. Oh it's racy sure, but have you ever read the comments on YouTube? Joseph Goebbels and Jeffrey Dahmer would feel at home there but a little masturbation is just too much.
I was going to upload it myself here from the band, but there are other sources not as frigid as some so there was no need, yay vimeo. Here they all are including the one with the naughty bits, captions by Ritzy!
A garden and a massive budget to splurge on special effects. "The true mystery of the world is the visible, not the invisible."
[The banned one] One of our favourite fan videos, sent anonymously. It's brilliantly executed, playful, funny and voyeuristic. Puritanical that it was banned from Youtube, even the suggested must be offensive these days. Just to clear a few things up; no we're not in it, and no we won't be making an official version anytime soon. Thanks to the maker and the happy cast.
A lesson on avoiding park rangers and surviving North Wales in February. Thanks to our one man crew Mr. Dain Bedford and to the unbreakable Swift guitar.
Camera – check. See saw – check. Same aforementioned garden – check (thank you, Justin). Friends, family, rent-a-mob – check. Strong booze – check. Horse-riding thighs and seafaring head – ummm.