What's the best-shot movie of the last decade, according to cinematographers?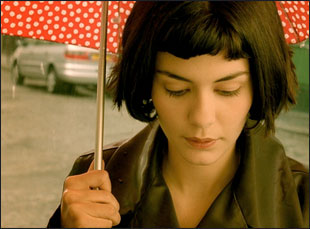 Posted by Vadim Rizov on
The American Society of Cinematographers has issued a poll settling definitively, once and for all (ha!) what the best-shot film of 1998-2008 was.
The non-controversial answer: "Amélie," shot by Bruno Delbonnel.
It's a bit of a bizarre choice, but one representative of the list as a whole, which tends to favor artificial color palettes (often computer-tweaked), virtuoso long takes and other strong assertions of of visual personality. Nothing wrong with that, of course — it's easier to register work like that. Either way, it's impressive that Roger Deakins placed higher for the relatively unshowy "No Country For Old Men" over the absolutely staggering "The Assassination of Jesse James By the Coward Robert Ford" — but, of course, more people saw the former, and that's what happens when you let 17,000 people vote in the final, public vote. A clip from the latter:
One could bitch and moan about the exclusion of all the tiny under-budgeted visual triumphs omitted from the list, like Remi Adefarasin's lyrical work on "The House of Mirth" and Saymobhu Mukdeeprom's gorgeous forest idyll in "Blissfully Yours," or the fact that the only black and white work on there is Deakins for "The Man Who Wasn't There" rather than, say, Patrick de Ranter's work on "Werckmeister Harmonies" — but that'd be nitpicking. Polls and lists are for fun, not for encyclopedic reference, and you'd have to be an awful churl to go to town on this list, which is about as good as it could be.
I wanted to focus, instead, on one cinematographer who regularly works on studio films and whose omission is genuine cause for mild complaint.
In the real world, Tak Fujimoto isn't underrated. Best known as Jonathan Demme's in-house cinematographer more or less from 1974's "Caged Heat" onwards (his work on "The Silence of the Lambs" is probably his best-known stint), Fujimoto also served as DP on "The Sixth Sense," which really doesn't look like any other Hollywood movie:
"In "The Sixth Sense" my approach was, Don't light the hallways with blue scary lights," M. Night Shyamalan explained to Time back in 2000. "Nobody's hallway looks like that, so it's not going to affect people. Make it look like your hallway when the lights go down."
Fujimoto took that aesthetic and ran with it to memorable effect. Given the lack of genre fare on the list (unless you want to be a smart-ass and claim "The Passion of the Christ" is the scariest movie of all time), it would've been a good choice.
2007's underrated "Breach," for that matter, includes something I've never seen in another movie. "Breach" is the story of Robert Hanssen, the FBI agent who was actually a Russian spy. Billy Ray's dramatization of the subject is far dryer and more factual than you'd expect — it's a neat little movie, thanks to Chris Cooper's predictably terrifying turn as Hanssen. There's a striking moment at the end, when he's been arrested: the elevator doors open to him in handcuffs, and Cooper's white-faced glare looks like the world's angriest kabuki actor, an incredibly unnerving effect accomplished seemingly without tweaking.
Fujimoto's specialty is to conjure up striking visual effects like that the old-fashioned way — through lighting and on-set manipulation rather than extensive post-production. It's distinctive, especially in this day and age. A little more attention to that kind of relatively unflashy approach would've been nice.
[Photo: "Amélie," Miramax Films, 2001; "Breach," Universal Pictures, 2007]