Taylor Hackford's Trip to the "Love Ranch"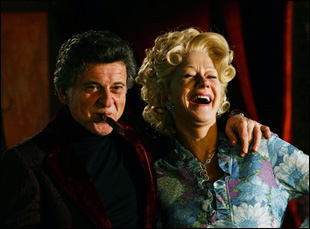 Posted by Aaron Hillis on
Not since 1985's "White Nights" has California-born director Taylor Hackford ("Ray," "An Officer and a Gentleman") worked with Oscar-winning actress Helen Mirren. That isn't to insinuate any animosity from that first collaboration since, well, the two eventually got married. Loosely based on the real-life story of America's first legal brothel, Hackford's '70s-set drama "Love Ranch" stars Mirren as a ballsy Nevada madam who becomes ensnared in a volatile love triangle after her shady hubby (Joe Pesci) invites a South American boxer (Sergio Peris-Mencheta) to train at the ranch. By phone, Hackford spoke with me about shooting sex scenes with the Queen, why HBO's "Cathouse" is bogus and the one film of his that never got a fair shake.
Why did it take so long for you and your wife to work together again?
When you're an actor, you can work four times a year. As a director, you work every two years if you're lucky. Of course I had a desire to work with my wife, but when I'm making films like "The Devil's Advocate" or "Ray," there aren't roles for her. There might have been a couple of support roles, which I offered her, and she politely said, "No thank you." [laughs]
I didn't have really substantial roles, and everything to a consummate actor is the role. At a certain point, I decided that I needed to find something for the very reason that we hadn't worked together in 25 years. When you're living with the world's greatest actress, you want to take advantage of that.
This was the script you were looking for?
Honestly, it was accidental. Mark Jacobson, an old friend who writes for New York magazine, called and told me he had written a spec script on a story that I knew about from the mid-'70s, the Mustang Ranch. I had never thought of it from the woman's point of view. The two male characters in that story were Joe Conforte, the huckster who promoted the legalization of prostitution in northern Nevada, and Oscar Bonavena, who had been the heavyweight champion in South America [and came] to the U.S. and fought the best of the best in the decade of great heavyweights.
I hadn't thought so much about Sally [Conforte]. Mark talked about this triangle, and I realized this is a woman of a certain age who is incredibly great at what she does, but in terms of romantic quotient, you would think it's past her. Real stories are often times more phantasmagorical than fiction could ever be, and in this instance, Bonavena and Sally had an affair, were really caught up, he ended up dead, and most people felt it was Joe Conforte who had killed him.
I took the idea to Helen, and she immediately warmed to it — I was surprised. I think at a certain point, Hollywood tends to type people. She had brilliantly played Elizabeth I and Elizabeth II in the same year. Then everyone said, "Oh, you're just a queen." I said, "You're the madam of a whorehouse," and she didn't reject it out of hand.
You must have an intimate shorthand in communicating with Mirren, so what's most challenging about balancing the personal and professional in that situation?
What's tricky is to make sure your collaborators, especially the cast, don't believe this is a cabal of a married couple, so intimate that we're talking about different actors' takes and so forth. Helen and I completely approach this as actor and director. She came to the set, she has her job to do, and an actor has to be "in charge." If an actress has children in the film, you can't say to these child actors, "Make this your mommy." The actress has to bond and get familiar enough with those children to make it seem real on camera. In this instance, you've got an actress playing a madam who is part businesswoman, part mother confessor, part disciplinarian.
We really separated the labor. We never had lunch together, she was always with the actors. It was actually quite refreshing that way. We did sleep together at night and I'd fall into bed after 18 or 19 hours, and we'd have Sundays together to drive around New Mexico, but effectively, we were separate. That's the way it should be.
Does it get trickier when you're shooting your wife for a sex scene?
To me, the film is a sneaky love story in that you start in the brothel and think you're going to be seeing something like "Cathouse" on HBO, and it isn't that at all. It really gets into the characters. Those things on HBO are not the way a brothel operates. They're performing, just like every reality show. I make films about working class people and I was interested in seeing the workplace. A brothel may be an aberrant one, but it is a workplace nonetheless.
I wanted to look at three cynical professionals who have been through the major part of their careers. They don't have any romantic illusions left. Is it possible for emotions to take over and explode: passion, love, jealousy, all those things that happen to people that seem to be inured to any real emotions? In that, the love scene is an important catalyst in the story. It has to be believable and passionate and all the things you would expect.