"Symbol": Are you there, God? It's me, Hitoshi Matsumoto.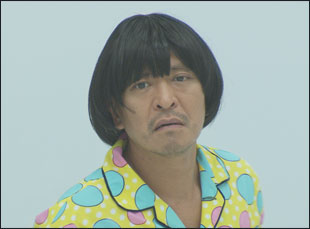 Posted by Alison Willmore on
Reviewed at the 2010 New York Asian Film Festival.
Hitoshi Matsumoto, a famous Japanese comedian whose work outside of the two features he's directed I have to confess to being completely unfamiliar with, has sported some truly horrendous big-screen haircuts.
In his impressively bizarre mockumentary "Big Man Japan," Matsumoto played an ineffectual part time superhero whose droopy personality seemed to physically manifest itself in the sheets of long, scraggly hair closing in on his demoralized face. (When he transformed into a barrel-chested CG giant in order to fight monsters, his hair stood straight up à la Don King — must be all that electricity needed to spur the change.)
In his new film "Symbol," which succeeds against all odds in being even stranger than "Big Man Japan," he peers out from under the heavy fringe of a deeply silly-looking bowl cut, the roundness of which is matched by the gaping "O" of his mouth as he shrieks his frustration or terror. Finding himself inexplicably trapped in an all-white room mounted with little all-white switches (which we learn are actually the Lilliputian privates of giggling cherubim lurking in the walls), Matsumoto's unnamed, pajama-clad protagonist is the unwilling participant in some sort of surreal one man metaphysical experiment.
Whenever he presses a switch — they're all identical and unlabeled — something absurd takes place in the room. A bonsai tree is ejected from a hole in the wall. Sushi drops onto a plate. An apparent African tribesman sprints out of one corner and vanishes into the other.
A countdown clock signals the arrival of a giant pair of buttocks, which descend from the ceiling to pass gas upon the trapped man's cowering form. And one of those switches opens a door — in the opposite wall, just a little too far away to get to before it closes back up.
Ah, yes. Did I mention there's this whole other intercut storyline, set in Mexico, about lucha libre?
The wrestler thread, which is entirely in Spanish, seems to take place in an only slightly quirkier version of the real world that bears not apparent connection to the fellow in the room. Escargot Man, who's a técnico, a good guy, prepares with his partner to battle a team of much younger and seemingly genuinely violent rudos with the ominous name "Devils of the North." His parents are concerned, while his son insists, in the face of jeering classmates, on Escargot Man's inevitable triumph. When the match actually begins, things don't look good. Well, until…
I won't give away the actual convergence of the two stories, which is staggeringly funny and, despite all the weirdness that's preceded it, categorically unexpected. And goddamn, it should be — the first two thirds of the film are basically a sometimes tedious, slapstick-overstuffed set-up for that joke/revelation, and while the final act just piles on marvelous scenes of insanity, the overall feeling of "Symbol" is of a very, very long short.
I can't begin to posit what the ending signifies — with the angel and devil imagery, there's certainly a religious spin you could plant on it, but that seems, perversely, a little easy.
I prefer Mark Schilling's proposed theory that the message is that "Actions have consequences, though our ability to foresee the latter is limited — if not nonexistent." In that light, "Symbol" is a fantastic rebuke of/alternative to the "Babel"s of the film world. And that's an idea I like very much.
"Symbol" does not yet have US distribution. It plays July 4th and 7th at the Walter Reade Theater in New York City.