"Splice" and "Double Take": A contemporary Frankenstein and an editorial one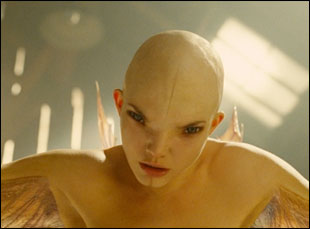 Posted by Bruce Bennett on
You can tell right off the bat that "Splice"'s genetic engineer couple Elsa (Sarah Polley) and Clive (Adrien Brody) are a poor fit for button-down corporate science, Canadian horror movie style. No cool Cronenbergian remove for these two! They live together in a warehouse loft, drive a vintage Gremlin, wear t-shirts with iconoclastic slogans printed on them, and urge each other on to greatness with reminders like "Wired doesn't interview losers."
After their ongoing experiments to create new hybrid animal life (the first of which appears to be the successful union of a guinea pig and a gigantic human penis) reach fruition, Elsa and Clive (surely named after Elsa Lanchester and Colin Clive, the actors who played the 1935 "Bride of Frankenstein" and the doctor in the original 1931 film) prepare to do some DNA knitting further up the food chain.
Their corporate sponsors, however, are having none of it. The research and development stage of their work is on pause, the pair are informed, until the company makes back some of what they've spent at the product stage. Making the most of an opportunity to stick it to the Man and to the Man Upstairs, the two scientists splice human DNA to a cocktail of different animals' DNA on the sly, impregnate a human egg with the result and wait to see what happens. They don't wait long.
After a bloody and very messy birth, Elsa and Clive find themselves the incredulous de facto parents of a two-legged, mostly digital creature that in infancy bears more than a passing resemblance to the cartoon drawing of Foot Foot from the cover of the Shaggs' "Philosophy of the World." Before long, the creature gains the name Dren, along with arms, fingers and a lithe body and birdlike face primarily contributed by actress Delphine Chanéac.
While nobody can quite figure out what Dren is, exactly, it turns out that Elsa, Clive and their romantic and professional partnership aren't what they initially seemed, either. Both use Dren's cloistered early development in and around Elsa's derelict childhood home as a run-through for the more traditional parenthood we're told Clive wants and Elsa fears. But the lost sleep, inattention to their jobs and absence of intimacy between the two that most new parents endure soon pale in comparison to the trials, temptations and confessions they face as Dren begins to spread her wings literally and metaphorically.
Director Vincenzo Natali (best know for 1997's cult favorite "Cube") and his co-writers struggle to keep to the storytelling high road as much as latter day horror conventions permit by doling out what feels like two movies' worth of backstory whys and wherefores driving the couple to the egregious lapses in scientific ethics, marital trust and common sense that trip up their discovery and relationship.
Portraying the member of the couple with the extra helping of issues, Sarah Polley struggles mightily to keep a realistic foothold on her character even while interpreting "Grey's Anatomy"-grade dialogue like "I don't even know who you are anymore!", "Was this ever even about science?" and "I just wish things could go back the way they were."
But the mish-mash of reasons and conflicts that drive Doctor Mom, Doctor Dad and baby Dren to a particularly gruesome sequence of late inning story events involving bondage, surgical maiming, semi-incest, rape and worse seem like mis-matched layers of complications peeled from different narrative onions.
While Dren's CGI augmented manifestations are sometimes impressive to watch — particularly in a bizarre dance sequence the creature shares with Clive — and Chanéac attacks her on-set responsibility for creating artificial life with personality and energy to spare, Dren's high cheek bones, big-eyed gaze, and smiling rictus evoke a kind of anti-Amelie more than something wholly original or entirely fascinating.
The only passport that would guarantee an audience safe passage through the film's brightly lit and maddeningly talky middle third would be for us on our side of the screen to have the same fascination with Dren that her onscreen parents do, and yet that allure, repulsive or otherwise, just isn't there.
Ultimately, what sinks "Splice" is a complete absence of the playfully mordant myth-making that distinguishes executive producer Guillermo del Toro's own films. Yes the idea of both scientific advancement and couplehood falling prey to the same human foibles is an interesting one. But does it have to be so single-mindedly joyless ?