Silly rabbit, soccer movies are for kids.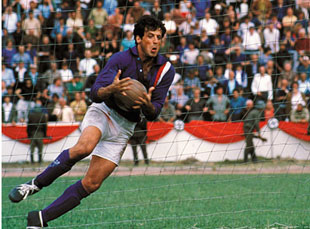 Posted by Vadim Rizov on
By the standards of American television, this is one wildly successful World Cup. Overall viewing numbers are more than double those of 2006, and the first four games had more total viewers than the NBA finals.
(To solidify the importance of the whole affair, John Travolta flew down in his Boeing 707 to support Australia, and did an inexplicable little soccer ball dance.)
The popularity might be due to a more confident, viable US team, more global awareness, the fact that it's in South Africa and people really like "District 9" (hey, stranger things have happened)… But never mind all that! Let's move on to the truly vexing question the LA Times' John Horn raised a few days ago: "Why is there no great Hollywood soccer movie?"
The most amusing explanation in the article is offered by veteran studio/production executive Joe Roth, who says "We're basically a xenophobic country and don't look at what's going on in the rest of the world as closely as we should." Horn claims that the most prominent Hollywood soccer movie is probably 1981's "Victory," with Sylvester Stallone and Pele, a few years after the latter's time with the New York Cosmos made soccer about as popular as it's ever been for adults in this country.
But in Hollywood, soccer flicks have tended to be aimed at kids in a way that's true of no other type of sports movie, much the way youth soccer is a suburban standard but doesn't seem to translate into adults following the pro sport.
The real soccer movies are the small, disgraceful ones only remembered by the children who had to grow up watching them. In that context, even "Kicking and Screaming" is too grandiose a film — with its supporting Robert Duvall performance and Mike Ditka cameo, it has a professionalism most kids' soccer films could only dream of.
It's slightly more elevated than the two biggest kids' soccer movies of the '90s, "Ladybugs" and "The Big Green." In both those films, '80s relics on their way down and out (Rodney Dangerfield and Steve Guttenberg, respectively) cross paths with a motley group of kids who need to have their self-esteem restored and wackiness ensues. You can roughly gauge the quality of the filmmaking by a) summoning up the image of Rodney Dangerfield coaching a girls' soccer team b) watching the trailer for "The Big Green," goat turd jokes and all:
It's notable that "The Big Green" relies on a classy British woman to shape up the kids. Americans don't do that kind of thing, unless (like Dangerfield) they're forced to for work. In American, adults play basketball, football and maybe hockey on-screen; World Cup fever aside, it's hard to imagine a Hollywood movie about adults playing soccer happening in the forseeable future, because as a country we seem to still believe it's only a sport for keeping kids busy during recess and after school.
[Photos: "Victory," Warner Home Video, 1981; "Ladybugs," Paramount, 1992]