"Showgirls: Exposed," wurst thing ever.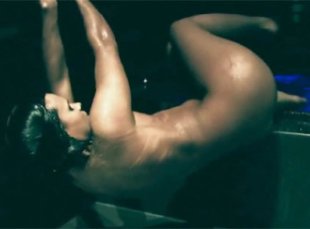 Posted by Brandon Kim on
The first time I saw this trailer (the director calls it a "photoplay") for this sequel to 1995's "Showgirl's" I thought it was one of those horrible fan made vids that was mistaken for a real trailer. You know the ones on YouTube with the uploader comment, "lol this is my first video i luv showgurls hope u liek it lol."
As sad as that is, the truth is even worse. A German director, Marc Vorlander, got his hands on some money and really made a sequel to one of the biggest turds of the 90's. I love me some Paul Verhoeven, "Turkish Delight" is incredible and "Flesh+Blood" is one of my all time favorite medieval sex pictures. I quote "Total Recall" all the time, but "Showgirls" was a schizoid embolism, unfit for the human mind. I think it was the first major film, not straight out porn, that was made with genitalia in mind as the viewing audience. Well, now Vorlander has made another movie for your balls.
So I'm watching this trailer and I can't get over how bad the music is, as usual. But this was bad music with video game bell tolls over piano lifted from "Halloween." It's painful, and that's just the music. The rest might cause your pupils to hemorrhage. Then another trailer was released, and it's as if it's a spoof of the first one, except that it's serious.
Twitch got their hands on this and wrote:
"Vorlander claims to have made this film with a twenty million dollar budget and if that is true then he is surely the worst director on the face of the planet or, perhaps, the most expensive director ever to be saddled with such cheap equipment."
Vorlander read that and responded saying, "The difference between controversial art and crap is very easy: controversial art is hated, panned, discussed…[clipped bit about original "Showgirls" being case in point]. It's demontrative that my work is acclaimed by many professionals from the industry and other artists and hated so much by folks that never made it there."
Damn he really laid down to Twitch, but that's always what douchebags say to people to try and harm them. I'm the hotshot etc, you're just a poor x,y,z. Art or not, it's shit. A 20 million dollar turd, if all the "photoplays" are any indication at all. The newer trailer below is, like I said even worse, especially the music. I get that Europeans listen to really shitty club music, but I'd think 20 million dollars could pay for something better – a wet bratwurst repeatedly slapping a kick drum would do.
I've never seen more female nudity and been less aroused (warning: NSFW at all). "Showgirls:Exposed" looks about as sexy as a Soviet prison in East Berlin. I think the graphics are from the same era. If you can get past the tortured Lord Vader lament in the beginning let me know. Here, you can almost smell the noxious cologne:
[via Film Drunk]