"That loving feeling": Seven movies in which a character tries to win someone's heart with a public serenade.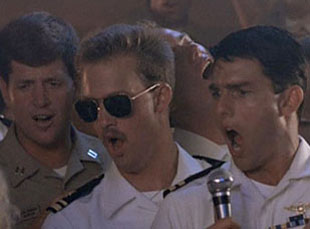 Posted by Vadim Rizov on
While the public serenading of someone's object of desire is not a gesture you tend to see all that often in the real world, at least outside of karaoke parlors, it is a reliable cinematic stand-by. This is probably because it's a gesture so fraught with the potential for embarrassment and humiliation that it's safer left on the screen.
So even though the musical is mostly dead and people no longer get described as "crooners," the serenade's popularity has seemingly only increased over the decades. Here's seven of the more memorable ones, involving songs both good and… not so much.
"Scream 2" (1997)
In the breathlessly sarcastic "Scream 2" — all things considered, slightly snider than the original — everything stops dead for four minutes so that Jerry O'Connell (all grown up from "Stand By Me," soon to be seen as chum-bait for "Piranha 3-D") can serenade a freaked-out Neve Campbell in the school cafateria with (of all things) the Partridge Family's "I Think I Love You." As someone points out, he's just riffing on Tom Cruise in "Top Gun" (when Cruise, Anthony Edwards and a rowdy bar of guys courted Kelly McGillis with "You've Lost That Lovin' Feelin'") — which makes the whole thing, somehow, very funny, even though it's allegedly being played with a straight face. Campbell gets to smile for a few minutes, but she's still about to spend the next hour trying not to get stabbed.
"My Best Friend's Wedding" (1997)
"My Best Friend's Wedding" is often noted as one of the more credible romcoms of the '90s, thanks to a downbeat ending that's more mature than the usual wish-fulfillment fluff and the behind-the-camera presence of director P.J. Hogan, who made the inexplicably beloved "Muriel's Wedding." And this is an archetypal Chick Flick moment, as emblematic in its own way as any number of spontaneous girl-bonding pillow fights or enthusiastic sing-alongs to "Ain't No Mountain High Enough." Having shanghaied her gay best friend Rupert Everett into pretending to be her fiance, Julia Roberts looks less than thrilled when he leads the whole restaurant in a rousing rendition of the Bacharach/David standard "I Say A Little Prayer (For You)." It's cute and all, but who wants to have their dinner interrupted that way?
"The Palm Beach Story" (1942)
One of the most sadly pragmatic movies ever made about the limitations of "true love," "The Palm Beach Story" has the guts to say what few movies dare: romantic affection is great, but if you and your partner aren't on the same page financially and one of you isn't happy about it, the relationship's quite likely doomed. And so it comes to pass that Paulette Goddard leaves husband Joel McCrea, gets on a train to Palm Beach and meets eccentric millionaire Rudy Vallee — one of the few romantic comedy adversaries just as appealing as as the man who should rightfully have the heroine's affections. Towards the end, just as McCrea and Goddard are this close to getting back together, Vallee unwittingly effects their reconciliation by gathering the big band together to sing "Goodnight Sweetheart" — after he turns the lyric sheet around from its upside-down position. An intuitive romantic Vallee isn't. The relevant clip starts at 7:30, though the whole movie's gold.
"Say Anything…" (1989)
Of course. A pale John Cusack standing outside Ione Skye's window, holding a boombox over his head, proving all those hours practicing kickboxing (sport of the future — one of the funnier jokes in the movie) have at least given him some decent arm muscles. The song is Peter Gabriel's "In Your Eyes," and the gesture comes through loud and clear. Here's a guy who can't express himself but knows his love is pure enough that it can only be sufficiently conveyed by pop music. Skye tosses and turns, while Cusack stands like an exceptionally depressed mime. The movie's not particularly visually distinguished (it would take Cameron Crowe a while to figure out what a camera can do besides functionally record performances), but the slow float in towards Cusack is as iconic as the gesture itself.
"The Magnificent Ambersons" (1942)
"In those days, they had time for everything," intones Orson Welles' typically sardonic narrator. "Time for sleigh rides, and balls, and assemblies, and cotillions, and open house on New Years, and all-day picnics in the woods, and even that prettiest of all vanished customs: the serenade." Just like luckless Rudy Vallee in "The Palm Beach Story," Joseph Cotten too screws it up, though for different reasons: drunk and weaving, he falls over his "bass viol" and smashes it — an affront to the propriety of the Ambersons, whose front lawn is never open to such indignities. 1942 was, apparently, a very bad year for on-screen serenades, though the real story here is that the very old-fashioned nature of that gesture will be made obsolete by film's end, along with the Ambersons' very magnificence. (You're better off just starting at the top of the clip below and rolling with the montage — the movie is, incidentally, unavailable on DVD unless you're willing to shell out for an out-of-print copy.)
"10 Things I Hate About You" (1999)
One of the few teen comedies released in that strange era in which Freddie Prinze Jr. was deemed fit to be a ubiquitous leading man, "10 Things I Hate About You" has a Prinze-less cast that's, in retrospect, way overqualified (Heath Ledger and Joseph Gordon-Levitt!). It also features a moment that's almost transcendent, a true rarity for the genre. Ledger, playing school bad boy Patrick Verona, jacks Franki Valli's "Can't Take My Eyes Off Of You" with the help of the marching band, his performance choreographed — opening slide down a pole and everything — in a way that makes space his to master. It's Ledger's show, and it's a shame that ("The Brothers Grimm" aside), he didn't have more time to make comedies (or musicals!) before his untimely death.
"Role Models" (2008)
Undoubtedly the worst singer on this list (though to be fair, Cusack let Peter Gabriel do the heavy lifting for him), the ever-endearing Paul Rudd doesn't have much of a voice or penchant for spontaneous lyrical improvisation. What he does have, though, is an immaculate knowledge of the Kiss musical catalog, which is handy when he needs to woo back his girlfriend Beth with, uh, "Beth" (trivia fiends: this remains Kiss' highest-charting American single), accompanied by an able group of Renaissance Faire-ish geeks who have their lutes all ready to go. Even more importantly, Rudd — who's been talking up the importance of Kiss to the poor kids under his mentorship the whole movie — puts his money where his mouth is, proving once again how timelessly romantic Gene Simmons can be. (By which I mean Simmons and Paul Stanley tried to have the song pulled from the "Destroyer" album — drummer Peter Criss sang it.) At the beginning of the movie, Elizabeth Banks calls Rudd an unhappy human being for, among other reasons, not enjoying singing in public, so he has to do this as penance. But that seems like a pretty reasonable prejudice to have.
[Photos: "Top Gun," Paramount, 1986; "Scream 2," Dimension Films, 1997; "My Best Friend's Wedding," Sony, 1997; "The Palm Beach Story," Universal, 1942; "Say Anything…," 20th Century Fox, 1989; "The Magnificent Ambersons," RKO, 1942; "10 Things I Hate About You," Buena Vista, 1999; "Role Models," Universal, 2008]