The latest way to prove you're a serious actress? Take your clothes off.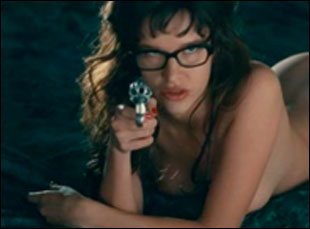 Posted by Vadim Rizov on
What would you expect a profile about a sexually volatile woman written by her ex (!) to be like? How about alternately salacious and bitter, punctuated by regular reminders of how she can't manage her money?
Such is the case with Jay Bulger's New York magazine feature on actress Paz de la Huerta, the thesis of which seems to be that "Paz da la Huerta enjoys taking off her clothes and recently realized other people enjoy this as well."
That, in and of itself, seems neither unreasonable nor unfair. At the ripe old age of 25, Ms. de la Huerta primary commodities have so far proven to be beauty and fearlessness. She may, in fact, be a great actress, but it's hard to tell. Her most important part to date (she has a major role in Gaspar Noé's "Enter the Void," out later this year), in "The Limits of Control," involved her being naked all the time — and not much more. Her character's name was "Nude."
It's fascinating that director Jim Jarmusch would say of de la Huerta "Nudity is her favorite wardrobe, her way of confronting her own fears head-on. And that's what makes her a great actor." And it's also vaguely nonsensical.
The connotation between being a "serious actor" and getting naked is a recent and weird development. There was some pre-Code nudity (Fay Wray getting stripped by King Kong in 1933 was cut when it was re-issued), then it went dormant, re-emerging as a way to get people to see allegedly classy foreign films in the '50s, brought into American film in the '60s, brazenly prevalent in the '80s and '90s, and then — in studio filmmaking, obviously, but also in a lot of arthouse/indie fare — turning into a rare novelty, to the point where Halle Berry getting half a million for two seconds of toplessness in "Swordfish" was news. (Or not. Print the legend.)
Watching a representative '70s movie like "All That Jazz" is an exercise in seeing what it's like when sexual barriers and modest norms get shattered; there was a ridiculous amount of casual nudity in '70s Hollywood. Now it's a thing to be commented upon. No less sober an auditor than the New York Times' A.O. Scott, reflecting on Greta Gerwig, couldn't stop himself from noting that "when she takes off her clothes — which is not infrequently — it does not seem teasing or exhibitionistic but disarmingly matter-of-fact."
There aren't many well-known actresses who do this on a regular basis, and they're not who you'd expect. No Megan Fox, but absolutely Naomi Watts, Anne Hathaway, Samantha Morton, Marisa Tomei, Nicole Kidman, Julianne Moore and Gerwig, who may not quality as "well-known" yet, but is on her way. (I'd address male nudity here, but now that Harvey Keitel keeps his pants on, the sampling's basically down to Ewan McGregor and Jason Segal in "Forgetting Sarah Marshall.")
All of those mentioned above are serious actresses (and Morton's one of the most serious in the world). Meanwhile, the disreputable "T&A comedy" is deader than casual dramatic nudity. This is not a criticism: god knows writing this post without sounding like a creep has been hard enough. But if Jim Jarmusch wants to suggest that Paz de la Huerta is a great, fearless actress because she's taking her clothes off, well, that's become the connotation now. Nudity's no longer what brings them in: it's the thing that screams serious, chance-taking actor.
[Photos: "The Limits of Control," Focus, 2009; "All That Jazz," 20th Century Fox, 1979]