"Secret Reunion": A blockbuster with brains.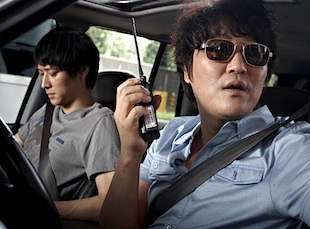 Posted by Matt Singer on
Reviewed at the 2010 New York Asian Film Festival.
We've been subjected to so many dumb domestic blockbusters in recent years — movies that don't so much entertain as lull you into a mildly pleasurable state of waking brain death — that we're in danger of forgetting that these films can (and, really, are supposed to) also be about something.
Hollywood still has easiest access to enormous budgets and cutting edge special effects, but all of that pales in comparison to good old-fashioned thoughtful storytelling of the kind in NYAFF selection "Secret Reunion." This film fulfills all the requirements of a summer movie — fine action sequences, superb plot twists, deadpan humor — but never at the expense of its intelligence.
The story is a hodgepodge of a few different genres, primarily buddy cop movies and Cold War espionage thrillers. In a lengthy prologue we meet South Korean Agent Lee ("The Host"'s Song Kang-ho), on the hunt for Northern spies. He's closing in on the elusive and ruthless assassin Shadow (Jeon Gook-hwan) and his more humane associate Ji-Won (Kang Dong-won) when a bust goes wrong. Lee takes the blame and loses his job; Ji-Won loses the respect of Shadow and gets left out in the cold. When we meet the characters again years later, Lee's making his living bounty hunting runaway mail-order brides and Ji-Won's in construction. A chance meeting brings them back together, and Lee convinces Ji-Won to come work for him.
That's when "Secret Reunion" really begins to cook: Lee and Ji-Won both know who the other really is but neither knows that the other knows, an elegant setup for some juicy cat-and-mouse interrogation scenes between the two charismatic leads.
Even as their dance of suspicion and deflection drives the narrative through some taut chase and fight sequences (including a particularly good one in which the pair take on an angry mob in dreamlike slow-motion) director Hun Jang simultaneously investigates the incredibly complex feelings Koreans on either side of the border feel for one another: that sense of patriotism and brotherhood tinged with mutual suspicion and dread.
It isn't simply that the moral issues at stake — how far, for instance, someone should be willing to go out of loyalty to their country — are so much richer than most comparable American studio fare. They also make the ultra-suspenseful final showdown between Lee and Ji-Won better. Since the film refuses to paint either man with the broad brush of good or evil, the ultimate outcome of their battle is impossible to predict.
Instead of vapid escapism, "Secret Reunion" confronts Korean viewers with harsh facts of their day-to-day reality; television sets that dot the production design constantly remind us of North Korea's latest nuclear developments. Any American blockbuster that tried to do the same would be signing its own box office death warrant (see the recent "Green Zone").
But the "Secret Reunion" page on the NYAFF website says that the film has been the highest grossing Korean film of 2010. Good for discerning Korean audiences, and good for American audiences, who've got a chance next weekend to see how mainstream filmmaking should be done.
"Secret Reunion" does not yet have US distribution. It plays Friday, July 2 at 7:30 and Saturday, July 3 at 2:10 at the Walter Reade Theater in New York City.
[Photos: "Secret Reunion," Showbox, 2010]