Seagal's "On Deadly Ground" an unexpectedly hot topic after last week's UK shooting.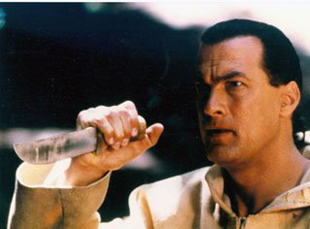 Posted by Vadim Rizov on
In the early hours of last Wednesday afternoon, an English taxi driver named Derrick Bird watched the Steven Seagal film "On Deadly Ground" at a friend's house, left and embarked on the worst mass shooting in Britain since 1996.
"On Deadly Ground" is the infamous Steven Seagal cult classic about environmentalism; it is not a film that anyone has ever taken seriously in their entire life. For the purposes of the media, though, it's been cleaned up into "an action film involving multiple killings." You could almost hear the staff of the Guardian — if not exactly pleased about the tragedy — at least mulling over how much copy they could get out of the link: "The debate over the effect of violent films looks set to be revived," they wrote. "The film […] involved multiple scenes of graphic violence involving a range of firearms." Sure. Why do we have to argue about this again, exactly?
The last time the connection between violent films/music/games and real life violence was given intense media focus was during the wave of school shootings that scared the hell out of everyone in the late '90s and early '00s. Lawsuits were filed against the producers of "The Basketball Diaries" and people fretted about "Doom" and Marilyn Manson and so on.
Before that, much of the '90s were spent worrying about whether or not "Beavis & Butthead" would destroy society after a boy set fire to a mobile home. Before that, John Hinckley got a little too obsessed with Jodie Foster and set off on his date of destiny with Ronald Reagan.
The temptation to link violent pop culture — i.e., Culture You Don't Like — to the worst society has to offer has always been tempting. But, like Chuck Klosterman wrote about the two young men who shot themselves after listening to Judas Priest, "Even as an adolescent, I understood that the kind of kid who thought Bruce Dickinson was telling him to worship Satan was the same kind of kid who would have been corrupted by the hum of a refrigerator." It's hard to responsibly draw a link between a movie that's been watched by millions and the one guy who does something right afterward.
But it persists, and reporters continue to pick up on the apparently salient detail — are they trained to ask everyone what the last movie the perpetrator watched was? What's this urge to draw a direct connection between a movie and its most violent adherent (especially when that movie is, c'mon, one of the more widely mocked of the '90s)?
A decade after "The Matrix" was being tied to Columbine (shootings in black trenchcoats!), it shows with monotonous regularity on basic cable; no one's died from it since. Nor has the culture at large gotten significantly less violent, nor have all the common-sense arguments made any headway; there has yet to be a single definable case of a movie pushing a sane person over the edge completely.
It's natural to look for causes, explanations for these terrible acts. And it's easy to pin them on whatever was last in someone's DVD player. But it's a debate that's driven by fear, not reason. And it looks like we're about to have it again.
[Photos: "On Deadly Ground," Warner Bros., 1994; "Beavis and Butt-head," MTV, 1993; "The Matrix," Warner Bros., 1999]