For directors, sometimes it's better to say nothing at all.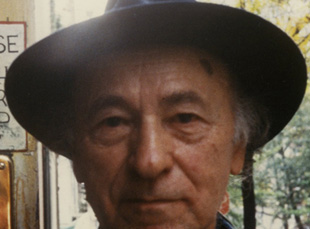 Posted by Vadim Rizov on
At the end of his pan of Chuck Workman's doc on American avant-garde "Visionaries" Tom McCormack drops a poignant observation about Jonas Mekas, the film's main focus:
Somewhere between a warmer, polite Jean-Luc Godard and a more honest and forthright Werner Herzog, Mekas shares with both men a propensity for the over-emphatic aphorism. In talking about the demands that avant-garde cinema often puts on the viewer, Mekas says that the films are "like orange juice concentrate, you can add a glass of water and make orange juice."
The more challenging your work, the more you risk giving ammunition to your detractors by saying anything concrete. That's why many of the great filmmakers are obscure with their intentions. One of the most revered books about film ever — Robert Bresson's "Notes on the Cinematographer" — has been described as sharing characteristics with Zen koans.
Godard sometimes stuck aphorisms into the movies themselves, then covered those up with more aphorisms, at least partially in the name of getting you to read the authors he was name-checking.
But someone like Herzog is more prone to say things like "Iguanas look so amazingly absurd and stupid," as he did in a recent interview in Sight & Sound that's unfortunately not online. When asked if partnering with David Lynch on "My Son, My Son, What Have Ye Done?" was "like a summit of the bizarre," he responded huffily "No, it was not a summit of the bizarre. It was a summit of those who are storytellers. […] I know how to tell a good story. And so does David Lynch."
Really, what unites them is an insistence to describing their work in only the vaguest terms. Lynch famously refuses to provide interpretations; Herzog yells about "poetic truth." Lynch proselytizes for technology he likes, Herzog tells good production stories.
Even the straightforward Noah Baumbach responded to a question about what "Greenberg" was "about" with "it takes me an hour and 46 minutes of film to say it."
A completely opaque director like Lucrecia Martel will cheerfully start diagramming her work, while the far more accessible John Ford was famous for insisting his movies didn't really mean anything, weren't art and so on.
But even when it's frustrating, it's hard not to sympathize with directors who — having worked hard to make the best film they felt capable of — are called upon to then explicate it all over again. It's nice when they do, but the allure of the cryptic is understandable. Sometimes vagueness can spark more of an imaginative response anyway.
[Photos: "Visionaries: Jonas Mekas and the (Mostly) American Avant-Garde Cinema," Chuck Workman, 2009; "My Son, My Son, What Have Ye Done," Paper Street Films, 2009; "The Headless Woman," Strand, 2009]