A Russian potato chip company's viral twist on "Celebrity Deathmatch."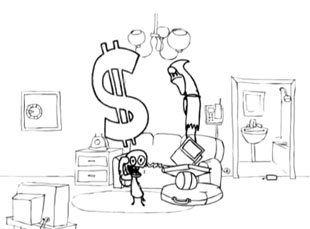 Posted by Vadim Rizov on
A Russian potato chip company whose name translates as "crunch" has come up with a campaign that translates as "crunch without rules." The formula: pit two pop culture icons against each other in pencil line drawings (they look like Don Hertzfeldt without the color), let them get all "Celebrity Deathmatch" on each other, make all the sound effects and music with your mouth.
If you're not up on the Napoleonic Wars, it's helpful to know that Mikhail Kutuzov was the Russian Field Marshal who defeated Napoleon in 1812 in order to make sense of this installment, but otherwise the videos pretty much speak for themselves — huzzah still dominant American pop culture!
Anyway, most of the battles in this fun group of videos are evenly matched. Some, of course, bend the rules — in the battle of "Dam Vamme vs Steven Steagal," Van Damme is incapable of breaking a bottle on his head and ends up being an ineffectual janitor while Seagal laughs.
Given Seagal's girth and the fact that his scenes now require him to basically stand around so that the editing can conceal the fact that he can't move (and given that Van Damme, all things considered, is still in terrific shape), it's unclear why this should be.
My favorite of the group is "Pac-Man vs. Mario," which follows spatial logic that will make instant sense to anyone familiar with the classic "Super Mario Bros." — it's the first level, beat for beat, with a twist. For the cream of the movie-themed crop, there's "Scream vs Broker," which is unexpectedly timely in light of next year's "Scream 4."
In the original franchise, the killings were all kinds of meta-snide. Now, the "Scream" killer is out there exacting economic justice, impersonating the voice of the broker at the finale as if he were Robert Patrick in "Terminator 2." This from a country whose rage at the economic higher classes is even greater than it is here — the joke's barely in jest.
[Photos: the "Crunch Team Versus" marketing campaign, Red Medusa animation studios, 2010]