Reconciling the Brett Ratner who loves movies with the one who makes movies.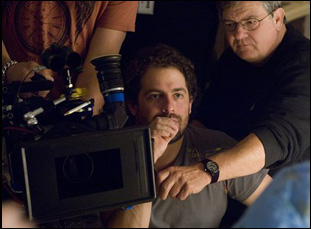 Posted by Stephen Saito on
Brett Ratner hasn't directed a movie since 2007's "Rush Hour 3," but that doesn't mean he hasn't been busy. Last week, he was out bolstering the legacy of an underappreciated actor with the HBO documentary he produced, "I Knew It Was You: Rediscovering John Cazale".
At the same time, Ratner once again became the scourge of film fans everywhere when Guillermo del Toro unexpectedly departed "The Hobbit," as it was his name who came up frequently as the prime example of who shouldn't take over the franchise. (Never mind that he didn't express interest in directing it, nor did anyone ask him to.) He stoked the fires further by announcing he's producing an "edgier and modernized spin" on "Snow White."
In a film world where little can be agreed upon, there's a general consensus that Ratner is the mainstream director whose mise en scène is closest to Satan's. He has defenders — newly installed New York Film Society associate program director Scott Foundas once spent 7,050 words extolling his virtues as "The Popcorn King" in L.A. Weekly. But by and large, Ratner is seen as the guy who killed the Hannibal Lecter and X-Men franchises, damn near did the same to Superman before Bryan Singer had the chance and remains the ever-lingering threat to fanboys everywhere as the hack studios hire when they have no interest in creativity.
The tragedy is that it's hard to find a guy that loves movies more, at least if he's to be judged by his actions away from the camera. Besides finding the money and helping director Richard Shepard with the hard-to-get clips of "The Godfather" star Cazale for the aforementioned doc, Ratner also had a well-publicized hand in "remixing" "Kites," the Bollywood romantic action thriller that he was hired to tighten up for American audiences.
The result was the first Bollywood film to crack the U.S. box office top ten, and whether or not Ratner was responsible, his involvement was likely what ensured it got a wide enough release to make the mark. Likewise, when he discovered some of his favorite film-related interview books — like James Toback's Jim Brown bio "Jim" or Lawrence Grobel's long-form interviews with Marlon Brando and Robert Evans — had gone out of print, he created his own publishing house Rat Press to put them back into circulation.
Ratner's detractors could easily chalk this up to a desire to be taken seriously as opposed to demonstrating a genuine love of film. It's a claim that can be backed up by the way he's always dropping the names of more acclaimed filmmakers like Singer and Paul Thomas Anderson as close friends, or the ring of disingenuousness that comes with casually mentioning a Polish movie he saw as an inspiration without saying its name. (Admittedly, he has "the worst ADD.") The same could be said for his penchant for surrounding himself with talent oversized for the films he's making, whether it's hiring legendary composer Lalo Schifrin to score "Money Talks" or convincing Max von Sydow and Roman Polanski to put in appearances for "Rush Hour 3":
Yet it would seem that whatever are Ratner's true motivations, he's making the world of cinema a richer place, even if it's not necessarily with the films he's directing himself.
[Photos: Brett Ratner on the set of "Rush Hour 3," New Line, 2007; Hrithik Roshan and Kangana Ranaut in "Kites," Reliance BIG, 2010]