How Dennis Hopper, Natasha Richardson and others are re-animated.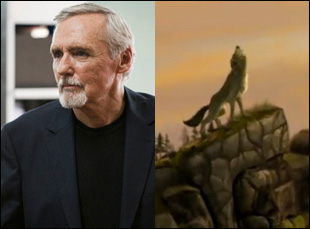 Posted by Stephen Saito on
Before Dennis Hopper passed away this weekend at the age of 74, you probably hadn't heard of "Alpha and Omega," the animated film that will be the legendary actor's final performance. In it, he'll voice a wolf named Tony, the elder statesman of a pack missing two of its younger wolves (voiced by Hayden Panettiere and Justin Long) who are relocated and must find their way back home.
It probably wasn't the final performance that Hopper envisioned for himself, despite the fact that its trailer contains a reminder of his "Easy Rider" glory days with a watered down "Born to be Wild" cover as its soundtrack. The film did allow the actor a chance to not worry about his physical appearance and with the time it takes to produce an animated feature, his work could be finished long before the rest of it could be completed. The latter is a reason why many actors have been known to make their final on-screen appearance without ever showing their face.
A month prior to "Alpha and Omega"'s theatrical release in September, the late Natasha Richardson will have her final screen credit in August's non-animated "The Wildest Dream," in which she voices Ruth Mallory, the wife of famed mountaineer George, in a documentary about his doomed 1924 climb of Mount Everest. Richardson's voice will accompany her real-life husband Liam Neeson, who serves as the film's narrator, and the film has been dedicated to her, a classy send-off for a classy actress.
Others haven't been as lucky. The most infamous posthumous performance would have to be Orson Welles, who lent his stentorian voice to 1986's "Transformers: The Movie" for Unicron, the gigantic, world-consuming fallen god whose lips didn't move. (He would also appear in Henry Jaglom's 1987 drama "Someone to Love," but completed the voice work for "Transformers" days before he died.)
Likewise, the brilliant Anne Bancroft suffered the indignity of having her final performance arrive in "Delgo," the dead-on-arrival sci-fi epic that was released three years after her death and was notable only for the fact that it was dedicated to her, had the worst wide release of any movie ever and bore some similarities to "Avatar."
And we're still waiting on Marlon Brando's last hurrah in "Big Bug Man," which fulfilled the actor's dream of playing a woman; for the film in which he plays Mrs. Sour, a candy factory proprietor, Brando reportedly wore a dress and a blond wig to record his part less than a month before he passed in 2004.
Incidentally, the most elegant tribute to a late voice actor perhaps came with someone who wasn't a household name, but was famous in animation circles — Joe Ranft, who was a key part of Pixar's creative team as a storyboard artist before dying tragically in a car accident in 2005, had three parts in 2005's "Cars" and received a brief montage of the various characters he voiced in other films (Heimlich in "A Bug's Life," Wheezy the Penguin in "Toy Story 2") in his honor during the closing credits (see the below video at the 1:14 mark).
Ranft, who was credited as a co-director with John Lasseter on the film, surely had many other great films in him at the time of his untimely death, but was afforded something too few others receive: a chance to go out on top.
[Photos: "Crash," Lionsgate, 2008; "Alpha and Omega," Lionsgate, 2010; "F for Fake," Janus Films, 1973; "Transformers: The Movie," DEG, 1986]