Stop-motion thoughts on Ray Harryhausen's 90th birthday.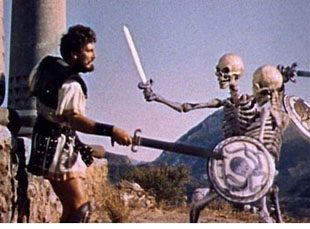 Posted by Vadim Rizov on
29 years ago, Ray Harryhausen unleashed the original Kraken in the 1981 "Clash of the Titans." Then he walked away from Hollywood filmmaking, annoyed that his work had been written off as mere "technical achievements."
Today is Harryhausen's 90th birthday and the man's still going strong. His monsters are being archived in museums — an exhibition of his work opens today at the London Film Museum.
Harryhausen didn't invent stop-motion, but he practically branded it. His monsters, skeletons and mythical creatures have become associated with the medium more than, say, Willis O'Brien, "King Kong" creator and Harryhausen mentor. O'Brien made many technical breakthroughs, but Harryhausen was his own auteur. At his '50s and '60s peak, you came to his movies solely for the creatures rather than the men opposite them.
Harryhausen's creations are beloved outside of the movies they emerged from: "The 7th Voyage of Sinbad" and "Jason and the Argonauts" have their passionate defenders, but even if you're only looking at Harryhausen's contributions, snipped out of context, they don't suffer one bit. Harryhausen actually had more control over the surrounding content of his movies than most "mere technicians."
"I'm not just handed a script," he told Damien Love in Bright Lights 2007. "I work with the writer on the scripts, and I'm associate producer, sometimes producer, and direct some of the sequences that involve my work." He never did get to direct the whole movie, and sometimes regretted it: "I think I could have done better than some of the directors we had."
Harryhausen's creatures were almost invariably more expressive than the actors who did battle with them. His fascinations — dinosaurs, Greek mythology, antiquarian sci-fi from H.G. Wells and Jules Verne — performed the unlikely feat of using progressive technology to leap back in time mentally.
His work became increasingly less viable commercially, not just for tech reasons, but because he wasn't at all interested in using his formidable knowledge and technique to enter the present day. (It's no surprise he was a little ambivalent about Tim Burton's loving tribute in "Mars Attacks!," a far more acerbic and less benign work than anything he ever did.)
While his work remains incalculably influential (and a standard-bearer for anyone arguing for personality-laden analog effects over soulless sturm-und-drang CGI), it's become as embalmed-in-time as Verne and Wells. What's fascinating about stop-motion animation is that it's got some of the highest work-to-success ratios around. It's such a ridiculously time-consuming and difficult process that it can't be dashed off in the same way as crappy traditional cel animation or bargain-basement CGI.
A stop-motion animation short or feature is almost invariably a cut above, and more personal than most, in its very nature. To engage in such a time-consuming process generally means you have something to express that hasn't been expressed before.
In that sense, looking back at Harryhausen's legacy means acknowledging that though his influence upon the fantasy-inclined is massive, his influence upon his medium is less pervasive. Big names working today, like Jan Svankmajer and contemporary uber-technician Henry Selick, owe nothing to Harryhausen's sensibility. He locked up all the possibilities for mythology and dinosaurs. People will continue to look at and love Harryhausen's work, but no one's going to be his successor.
[Photos: "Jason and the Argonauts," Sony, 1963]