Psychedelic western musical, "Separado!"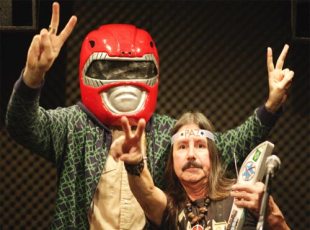 Posted by Brandon Kim on
Welsh singer/songwriter Gruff Rhys fronts Super Furry Animals and has more recently been half of the brushed aluminum duo, Neon Neon. You'll also know him for his solo work and celebrated driving tunes. "Separado!" is first foray into documentary filmmaking, co-directed with Dylan Goch.
[Gruff Rhys and Tony Da Gatorra].
It's a road trip movie, following Rhys over rolling hill and blooming dale, into the nightclubs and tea houses of Wales, Brazil and the Argentine Andes in search of a "long lost Patagonian uncle, the poncho wearing guitarist Rene Griffiths." It promises to be a psychedelic exploration of the "Welsh Diaspora and its musical legacy" through one man's search for his far flung family.
"Separado!" premieres at the Los Angeles Film Festival June 24th and 26th, and will be accompanied by a limited album release, The Terror of Cosmic Loneliness, a collaboration between Rhys and crazy Brazilian musician Tony Da Gatorra. You can dig part of a recording session they had in the trailer for "Separado!"