Taking lessons from "Prizzi's Honor" instead of "The Karate Kid."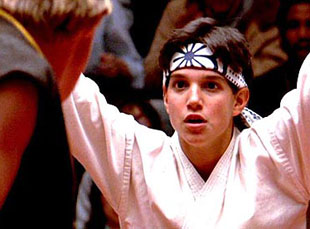 Posted by Vadim Rizov on
This week's big movie meme is Originality vs. Profitability, thanks to the spectacle of two '80s retreads squaring off at the box office this past weekend. Why "The A-Team" sunk (relatively speaking) and "The Karate Kid" was immensely profitable has led to a lot of discussion, but little consensus.
Both film are primarily riding off of brand names and a nostalgic fanbase. "The A-Team" had a budget in the $110 million range, while "The Karate Kid"'s was a mere $40 million, something that had more to do with shooting in China than scale. While we dwell on this summer of recycling and sequels, it should be pointed out that if Hollywood's going to look to the '80s for inspiration, they're going about it the wrong way.
At the New York Times, A.O. Scott has some interesting thoughts on the consolations of narrative continuity as embodied (or at least promised) in the modern franchise: "Anyone who has told a child a bedtime story knows that its conclusion is met with the demand for 'another one' — for the same one again, but a little bit different. Movies are far from the only medium to cater to this desire."
That's certainly one way to explain why there were eight "Nightmare on Elm Street" movies in the first run, and why we're now seeing more movies hitting their third, fourth and fifth installments than we've had in a while. But it doesn't explain why we couldn't come up with a new franchise of comparable value (who doesn't love at least one of those movies?).
The Los Angeles Times, meanwhile, continues to beat the drum for "quality storytelling" in its own odd way, with Steven Zeitchik theorizing that '80s films like "Back to the Future" and the original "Karate Kid" had "a fundamental grasp of storytelling" and that "subconsciously, the remake craze may be partly about good narrative."
I'm going to have to disagree with that last point — I don't see how the solution to our apparent storytelling stagnation means invoking the original "Karate Kid" as a model of strong narrative, insofar as the original "Karate Kid" is incredibly slack. A better test case is "Prizzi's Honor," which came out 25 years ago yesterday, the strange (and fun, incidentally) John Huston movie that won Anjelica Huston an Oscar. If you want to talk about fixing summer cheaply — and you must do it in an '80s fashion — this is the kind of movie to rip off.
Despite slow pacing and morbid humor, in commercial terms, "Prizzi's Honor" didn't perform badly at all, pulling in less than concurrent releases "The Goonies," "Cocoon," "Pale Rider" or "St. Elmo's Fire" but performed much better than some other high-profile flops, including the sadly undervalued "Return to Oz." (Note also that "Pale Rider" made money. Genre balance gives all movies a better chance of succeeding; the old "demographic split" model was more consistently if modestly profitable than the one-size-fits-all blockbuster.)
Lead Jack Nicholson was very hot stuff in 1985, as was Ms. Kathleen Turner (fresh off "Romancing the Stone"; more on this in a minute). Good old-fashioned star power triumphed that week over an anonymous child robot ("D.A.R.Y.L.") and whatever Corey Haim ("Secret Admirer") was up to. That whole month, in fact, was (with the arguable exception of "Return To Oz") based on all original properties.
Because summer blockbuster season wasn't the endless slog then it was by now, by July studios were re-issuing last year's successes ("Gremlins," "Ghostbusters") because they could.
What does this tell us about the past weekend? Well, nothing, of course. But relying upon the idea that audiences responding to "The Karate Kid" because it gives us the familiar comforts of a narrative that's detailed without being novel doesn't tell us anything either.
If we're going to plunder the '80s wholesale while still trying to keep budgets down, there are so many options, and better ones than the likes of "The Karate Kid." Perhaps not remaking "Prizzi's Honor" per se (you'd hope not), but it's seriously doubtful that the country that made "The Blind Side" the eighth-highest grossing film of last year (not to mention actually showed up for "Inglourious Basterds") is ready to give up on "storytelling" as a whole during the increasingly endless summer.
Anyway, how big of a star was Kathleen Turner in the '80s? So big that the late Falco (of "Rock Me Amadeus") wrote a whole song about pining for her kiss:
[Photos: "The Karate Kid," Sony, 1984; "Prizzi's Honor," MGM Home Entertainment, 1985; "Romancing The Stone," 20th Century Fox, 1984]