"The Agony and the Ecstasy of Phil Spector," a "Defeat Lap" for the Legendary Producer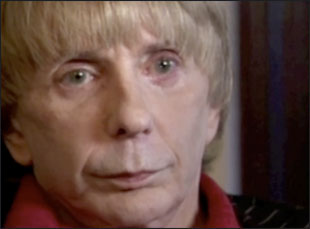 Posted by Bruce Bennett on
If most recent documentaries assaying '60s and '70s rock and roll are any indication, filmmakers expect viewers to approach pop music history not with open minds but with empty heads.
Case in point: the curiosity that led me to watch "Stones In Exile," a recent non-fiction film on the making of the Rolling Stones beyond seminal LP "Exile On Main Street," was rewarded by supposedly contextualizing input from a young man in a band called Kings Of Leon who appeared in his choice of comments to have never heard of either the Stones or their 1972 album.
No offense to anyone's record collection, but the complete absence of Bono, Jack White, Sheryl Crow and the rest of the rock doc talking head usual suspects in Vikram Jayanti's new film puts it in the winner's circle right out of the gate. That film is "The Agony and the Ecstasy of Phil Spector," a documentary on the legendary producer, songwriter and, now, convicted murderer.
Instead of assembling footage of collaborators and celebrity "experts," Jayanti's film places Phil Spector's greatest and most infamous critic, fan and apologist front and center — Spector himself. In a series of interviews shot by the extravagantly talented cinematographer Maryse Alberti ("No Direction Home," "Happiness," "Velvet Goldmine") Spector appears rheumy-eyed, bewigged and candid to a fault.
He expounds on the long and winding road that led him from a Bronx childhood scarred by paternal suicide, to life as a Los Angeles high school social outcast, to music industry teenage hit-maker status, to architect of the lush "Wall of Sound" recording style, to Beatles producer and confidante, and eventually accused murderer.
Just scoring an interview of this length and breadth with a man as notoriously privacy-obsessed and reclusive as Spector is a non-fiction filmmaking coup of the highest order. But the fact that the interview subject was at the time of his sit-down in the midst of his first (ultimately inconclusive) trial on the charge of killing actress and waitress Lana Clarkson with a pistol from his own collection turns the film's Q & A into something else.
"The Agony and the Ecstasy of Phil Spector" becomes a kind of confessional and accusatory spoken word aria that wanders into the documentary borderlands. In light of its subjects subsequent conviction and sentencing to 19 years to life for killing Clarkson, this sympathetic portrait (produced for BBC's excellent Arena series) might best be described as a "defeat lap."
Like Dixon Steele, the character played by Humphrey Bogart in Nicholas Ray's LA anti-romance "In A Lonely Place," the Phil Spector on view here appears to have spent his entire life inadvertently grooming himself for trial by both jury and public opinion. Segments in which Spector casually compares his work to that of Leonardo da Vinci, dishes on what ingrates most of the performers he made into stars ultimately were and rues the outcome of court proceedings left in the hands of his intellectual inferiors jockey for screen time with lengthy Court TV excerpts of the first trial.
The latter appear designed to capture the tedium of American justice as much as evidence for conviction (a parade of ex-girlfriends testifying to Spector's serial physical abuse) and against (legal and forensic experts questioning the identify of finger on the trigger itself). There are also excerpted moments from a comparatively grim 1977 camera sit-down also staged in Spector's LA mansion (excuse me, "castle") in which the interviewee was apparently quite drunk, and audio and vintage filmed performances of the songs under discussion.