Owen Wilson, from comedic great to Great Dane.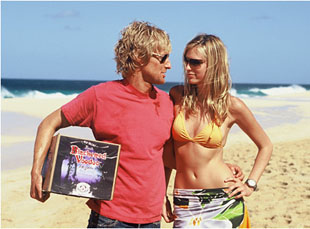 Posted by Vadim Rizov on
Every decade has its comic icon. We envision Cary Grant as the shining light of the '30s and '40s, Rock Hudson for the pre-'60s transitional period, no one as the emblem of the hippie age (who could afford to have comedic icons then, aside from dabblers like Richard Pryor?), Robin Williams in the '80s, Pauly Shore for a strange period of '90s, then Jim Carrey, til he abdicated. The aughts had Will Ferrell, and they had Owen Wilson. Who is, for the purposes of this summer, "Marmaduke." Darn.
Owen Wilson was the last comic in recent American memory who could single-handedly transform a movie with his distinctive energy without forcing it to become His Kind of Movie (the Will Ferrell approach). It's a trick he performed unfailingly from "Shanghai Noon" to "The Big Bounce," bringing drawling reluctant hero charm and raffish stoner likability.
But his vehicles have gotten worse over the last few years, the writing sloppier, until one day it seemed like he had no energy left. It's difficult to remember that he helped found the whole Wes Anderson aesthetic, co-writing "Bottle Rocket," "Rushmore" and "The Royal Tenenbaums," as he's otherwise gone off in one comically jockish direction or other.
This summer, Owen Wilson is Marmaduke — he's provided the voice of the titular Great Dane, a role for long burnt-out comedians who just want the paycheck. This winter, at least, he'll be part of a James L. Brooks movie, and beyond who knows.
Poised to take his place as primary comic actor of the new decade, we've got all-purpose, flexible dudes like Bradley Cooper (whose muscles make him equally adept for "The A-Team" and "The Hangover"), dramatic actors who can do comedy while making it look natural (Robert Downey Jr.) and all-purpose weirdos like Zach Galifianakis, who traverse alt-comedy and the mainstream without compromising a medium budget movie.
My hopes, a decade ago, were on Wilson, who seemed like a slacker Cary Grant; subsequently, it's seemed like too many lousy parts and lord knows what else seem to have worn him down. These days, a more representative comic of the times is Kevin James. It's hard not to sigh at that.
[Photos: "The Big Bounce," Warner Bros., 2004; "Marmaduke," Twentieth Century Fox Film Corporation, 2010]