Overcasting, when film casts overflow with familiar faces.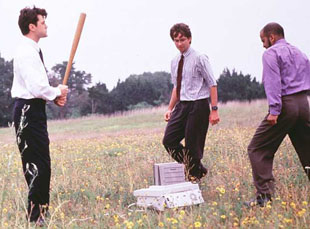 Posted by Vadim Rizov on
Over at Movieline, Christopher Rosen bemusedly chews over the casting news for "Horrible Bosses," a comedy due next summer that — in the absence of other news — is being wildly anticipated.
It does sound pretty awesome, insofar as it ups the "Office Space" stakes and has disgruntled employees actually killing their bosses instead of merely smashing fax machines — the recession comedy we've all been waiting for! Arriving, alas, too late.
But the point Rosen wants to make is that "Horrible Bosses" might be overcast: with Kevin Spacey, Jennifer Aniston, Jason Bateman, Colin Farrell, Donald Sutherland and Jamie Foxx (though I refuse to believe Jason Sudekis is actually anything like "a star"), he wonders if there's a correlation between an over-abundance of big names and a less-than-quality product — or worse, if this is a film a la "Valentine's Day" that compensates for innate shoddiness with marquee firepower.
There have always been movies that overdose on stars for their own sake, to the point where there's barely any room for a plot. There were a whole raft of these during World War II, when studios issued what were basically variety shows with thin romantic plots to tie them together. This lead to some bizarre sights — the perfectly pleasant "Stage Door Canteen" ends with Katharine Hepburn delivering a rousing wartime speech, a very uncharacteristic moment in her career — but generally it was a pleasant way to combine propaganda, charity and studio self-promotion.
Studios would pull together their rosters and donate much of the money to charity: Universal had "Follow The Boys," Warner Bros. had "Thank Your Lucky Stars" and "Hollywood Canteen" (the latter of which gave 40% of its profits to the actual titular canteen), Paramount had "Star Spangled Rhythm" and MGM had "Thousands Cheer." All now act as decent time capsules, and then served handily to promote the studios' wares and thespians for the post-war era.
Stacked-deck casting has also been used as a form of spectacle to rival whatever expensive stuff going on on-screen, as practiced in 1956's "Around The World In 80 Days" (in which Frank Sinatra's cameo is basically one shot) and 1963's "It's A Mad, Mad, Mad, Mad World," whose cast list is so big Wikipedia splits it into three parts. And of course there are the lousy Eurotrash movies made after "Airport" designed to package multiple names for cross-cultural revenue — they're endearingly cheesy now.
What's missing in all this, though, is the good old character actor. All those studios in the '30s and '40s had a stable of odd types to fill in the margins with their (usually comic) specialties, rather than plugging in stars galore. These were guys like Guy Kibbee, whose niche Wikipedia nicely synopsizes as "daft and jovial characters" and who had a form of toad-in-the-hole named after him.
There were guys like the entire original cast of "The Wizard of Oz," prolific Broadway and vaudeville vets all, where physical and character-based eccentricities could be smoothly adapted for multiple films. It was good for women too, like Margaret Dumont, who practically became the fifth Marx Brother while playing easily shocked matrons over and over.
The contemporary equivalent of this kind of player would be someone like Elias Koteas, whose features are just distinctive enough to seem sinister. Still, it's impossible to imagine Koteas as a widely beloved bit player — to most viewers, he'll just be That One Guy.
A lot of movies now are stuffed around the fringes with wildly overqualified players seemingly as a form of thespian insurance, like Ian Holm — distinguished Harold Pinter interpreter reduced to looking merely seasick for a small part in "The Aviator." This form of overcasting has its consolations; rare is the Hollywood movie without a pleasant surprise of an appearance (I don't know what Alfred Molina will bring to "The Sorcerer's Apprentice," for example, though I'm sure he'll bring his A-game regardless).
The downside is that — aside from comedies, which have more capable supporting specialists than ever in recent memory — dramatic films lack memorable, vaudevillian types. It's not that the air-brushing of lead actors is a bad thing in and of itself; who doesn't like to gawk at pretty people? It's that the fringes themselves have been blanded out, filled with interchangeable bodies lusting after stardom.
[Photos: "Office Space," 20th Century Fox, 1999; Marlene Dietrich and Orson Welles in "Follow the Boys," Universal Pictures, 1944; "Shooter," Paramount, 2007]