Oliver Stone Heads "South of the Border"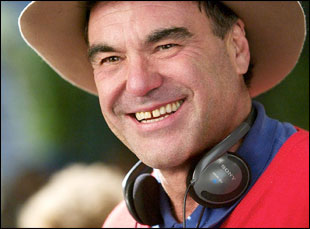 Posted by Aaron Hillis on
Before American audiences can get their greedy eyes on Oliver Stone's long-anticipated sequel "Wall Street: Money Never Sleeps" this fall, the three-time Oscar winner will release an even more politically minded film, if you don't mind Hugo Chávez standing in for Shia LaBeouf. As genial as it is revealing, "South of the Border" sees Stone on a road trip in the titular direction, conducting humanizing interviews with presidents who — as is the refuting point of Stone's doc — have been unfairly maligned by the American government and media.
Stone gets up close and personal with the aforementioned Venezuelan leader, Bolivia's Evo Morales, Brazil's Lula da Silva, Paraguay's Fernando Lugo, Ecuador's Rafael Correa, Argentina's Cristina Kirchner (and her husband, ex-President Nėstor Kirchner) and, most predictably from the director of "Comandante" and "Looking for Fidel," Cuban top dog Raúl Castro.
Stone mentioned to me that the film was partly shot by legendary documentarian Albert Maysles ("Chávez loved him, they got along beautifully"), just one more colorful anecdote in a wide range of topics: his history with Central and South America, the illegal substance he smuggled back home, Michael Moore, and his reaction to my criticism about his new "Wall Street."
Between "Salvador," "Comandante" and "Looking for Fidel," what keeps drawing you back to Central and South America?
It's not that I have a particular attachment. I've done three or four films about Asia, my mother's European, and [there are] my Native American films. But I do find myself bouncing back to it, it's true. The "Salvador" experience opened my eyes to the abuse of the truth down there because I'd been in Vietnam and thought that was behind us. I went down in the mid-'80s and saw American soldiers back at it again, ready to invade Nicaragua.
The "Salvador" story was horrible [with the] death squads, some of them trained by American soldiers, who were killing people in the most brutal ways. There was a Guatemala genocide going on in 1982, unbelievable stories all over that region, and they got away with it. Reagan would've gone with war with Nicaragua, but the Oliver North episode derailed that.
That woke me up, and then I kept going. Years later, I interviewed Castro twice, and felt he's getting a bum rap. It continues with Chávez, and frankly, they've done the same thing with Morales, Correa and Kirchner. It seems like the United States is always interested in delaying progress, reform and democracy in these countries, and for almost 200 years, supported dictators, oligarchs and corporations that own the countries. [laughs] This is the first time in history that I know of where six countries in South America have united with democratically elected leaders and are saying, "Look, we want to control our resources. We want the United States out. Stop trying to own us. We want to provide the profits to the people, not to the corporations."
They're having a hell of a fight because the United States keeps attacking them individually. They tried to pick off Chávez and Kirchner, and they go after them again and again. Never in the media have I seen one mention that they all like each other and they're united. That's what this film, in its modest little way, tries to do. Chávez said to me, "Don't believe me. Go on, talk to my neighbors." And I did.
In your early interactions with Hugo Chávez, what was it about him that made you see a different man than the one portrayed in the U.S. media?
You know, he is what he is. He's gruff, he's bluff, he puts his foot in his mouth sometimes, and he doesn't have the style that we're used to in the West for our leaders, the slick Tony Blair types who know how to talk. [laughs] He's a bear, no question. But I like the guy because he means and does what he says. He operates for the people. The guy is not getting rich, he's living very austerely, and he busted his old friends who became corrupt. He's delivered the goods, said he would give the oil profits back to the people, and no one I know has kept his word like he has. The country boomed for six or seven years. It's going through some problems now with the recession, but nothing major compared to what the United States and Europe are going through.
I like how the film disarms our trained perceptions of these leaders through casual activities. Chávez rides a bicycle in his grandmother's backyard, and Morales kicks around a soccer ball with you.
Exactly, it breaks the ice. I'm not going there as a prosecuting attorney like a lot of journalists who go after them. I'm there as a filmmaker, trying to say, "Hey, give me some face time. Let people see what you're like." Of course, with Evo Morales, who is an Indian, it's hard to get a reaction. He's got a stoic face. [laughs] He helped me through my altitude sickness there. I was really sick.
For that ailment, you appear onscreen chewing coca leaves. Is that high much different than having caffeine?
No, it's a mild, mild stimulus. You're at 12,000 feet, so you're nauseous and it's really hard to breathe. This opens the cells, you get better oxygen and you feel more relaxed. I was nauseous, and then I ended up playing soccer, that was sort of the point. They've been doing it for centuries down there. It's a normal thing to do. By the way, I brought coca leaves back. It's illegal in this country to have a coca leaf, but put it in a cup of tea and it's better for your health than coffee. But of course, there's more money for us in coffee as well as tobacco, so we'd rather do that for stimulation.