"Suddenly…": Seven different salutes to the Odessa Steps scene.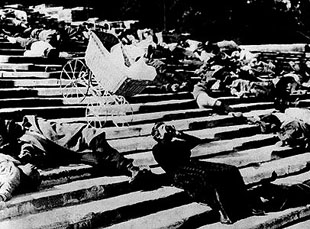 Posted by Vadim Rizov on
Sergei Eisenstein's 1925 film "The Battleship Potemkin" boasts the double-edged distinction of containing a sequence so famous — the "Odessa Steps," part of the very ABCs of film history — that people who've never seen the movie are intimately familiar with it, the same way everyone's seen a rocket launch into the moon's eye-socket even if they don't know it's a Méliès short.
The steps sequence, which you can watch, with the Pet Shop Boys' new soundtrack, here, is famous for its effectiveness, its pioneering use of montage, its striking violence, and of course, its bit with the baby carriage. And because of this, it's been ripped off, homaged, parodied and appropriated in dozens of ways. Here are seven of the best examples of the way it's trickled down into the culture.
"The Untouchables" (1987)
Brian De Palma is as diametrically opposite a filmmaker from Eisenstein as you could imagine. No fast editing or montage for him — he favors the long, cool gaze, preferably in slow motion. The most cynical movie of his career (and, for some reason, one of his rare hits), "The Untouchables" contemplates Kevin Costner's preening Prohibition agent Eliot Ness as he chases down bootlegger and crime king Al Capone (Robert De Niro). The big shoot-out, set in Chicago's Union Station, does two things. It allows De Palma to destroy montage theory (filming it in elegant slow-mo as opposed to with fast, dynamic cutting) and it lets him taunt the audience. "Okay," he seems to be saying; "worried about that baby? Fine. The baby can live. Everyone else will get shot though. Happy now?" The cuts to the blond-haired urchin seal the deal.
"Brazil" (1985)
There are plenty of good reasons for Terry Gilliam to parody "Potemkin" with a vacuum cleaner in place of a baby carriage. It plays nicely into "Brazil"'s skewed hierarchical world, where the mundane has been elevated into the sublime and ducts are the highest architectural embellishment. In the film's satiric rendering, the death of a loud, annoying house-cleaning accessory is as tragic as the snuffing out of an infant. But according to Gilliam on the commentary track, "this is what happens when I get bored" during shooting — he claims his elaborate shot parodies were made up to kill time. Gilliam's compared the over-designed frames and sight gags of his work as being in part inspired by Mad magazine's old trick of including cartoon gags in the margins of unrelated pages. His invocation of "Potemkin" is intended in the same spirit. (Skip to about 7:30 in the video below.)
"Partner" (1968)
In Bernardo Bertolucci's third film, characters say things like "Advertising is a servant of fascism" and mean it. Loosely inspired by Dostoyevsky's "The Double," "Partner" stars Pierre Clementi as two doppelgangers, both of whom happen to be assholes. The revolutionary rhetoric leads to one of the film's more amusing bits. Clementi and his theater students stand on a staircase, put an explosive in a baby carriage and push it down the stairs. When it doesn't go off (presumably some kind of metaphor), they run around releasing red colored smoke into the air while making noises that sound a lot like a six-year-old imitating an airplane. While I couldn't track down a video of that bit on YouTube, I did turn up this sequence, which contains the strangest song you'll hear this week:
"When Nature Calls" (1985)
Troma release "When Nature Calls" is a movie that, to get to a mere 75 minute runtime, had to be padded at the front with three faux-trailers, beating "Grindhouse" to the punch decades early. One of those is "Baby Bullets," about a gangster baby. It's ridiculous, but contains a "Potemkin" sight gag that's inventive — the carriage goes down the stairs, but it's actually a small car, with the baby whizzing past everyone, including the glasses woman. The rest is forgettable — much better is the full-length trailer for the whole film, which includes excerpts from "Raging Bullshit" (I'm sure you can guess what that's a spoof of), a dead-on visit to the "Asylum for the Terminally Jerry Lewis" and a cameo from G. Gordon Liddy.
"The Critic" (1994-95)
This one's brief but worthwhile: a down in the dumps Jay Sherman — his show canceled, his life purposeless (well, more so than usual) — decides to revisit his film school days and screen his student short. We're invited to snigger at all the tropes of the unwatchably pretentious art film, which include salutes to the "Potemkin" baby carriage as well as "The Seventh Seal" (the title "L'artiste est Morte" is a dead giveaway), before Jay calls himself "Prometheus Sherman" and hangs himself. As far as art school parodies go, it's as wan as "Art School Confidential" (it's shooting fish in a barrel, and no one really does this), though the Kool-Aid jug morphing into a mushroom cloud is a nice touch. Jay, of course, is honest with himself: "I know," he shrugs. "It stinks." (Skip to 1:28 if you're in a hurry.)
"Une Catastrophe" (2008)
In his book "The Great War and Modern Memory," Paul Fussell proposes that the essential mindset of the 20th century is to live in perpetual wartime, used to the fact that there's never global peace. Jean-Luc Godard would probably agree — the opening "Inferno" montage from 2003's "Notre Musique" posits as much. If you don't have ten minutes to spare (or the patience to give Godard ten minutes) on that clip, here's the just-over-a-minute short "Une Catastrophe," whittled down from the same material, and reappropriating "Potemkin."
"Naked Gun 33 1/3: The Final Insult" (1994)
By the time Leslie Nielsen's no-brow "Naked Gun" franchise got around to parodying "The Untouchables" (back in the day when you could assume audiences remembered a movie from seven years ago — now our rapid-response parodies are a lot faster, and generally poorer for it), "Potemkin" didn't really have anything to do with it. Instead, we get sight gags, the most inspired of which is O.J. Simpson doing a touchdown dance with a baby (three months later would come the murders and the white SUV and the trials, retroactively changing the tone of the movie). The parody doesn't so much mock De Palma's ponderousness as simply raise the absurdity quotient until it achieve comedy, two degrees removed from the sequence that started things.
[Photos: "Battleship Potemkin," Kino, 1925; "The Untouchables," Paramount, 1987; "Brazil," Universal, 1985; "Partner," New Yorker Films, 1968; "When Nature Calls," Troma, 1985; "The Critic," Sony Pictures Television, 1994-95; "Une Catastrophe," Viennale, 2008; "Naked Gun 33 1/3: The Final Insult," Paramount, 1994]